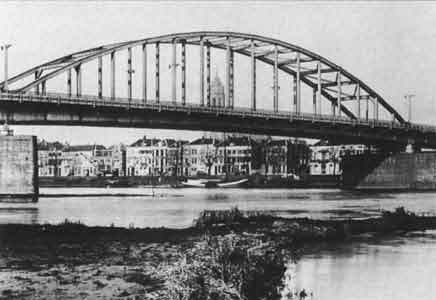 The bridge at Arnhem.
Photo from http://www.geocities.ws/radisic_igor/a_bridge_too_far_operation_marketgarden.htm
Hey gang, right before Gencon, I received some new terrain in the mail: a 15mm
truss bridge (this is the Ludendorf Bridge from Remagen)
and some guard towers! I picked these guys up from the
Impudent Mortal
kickstarter to use with
Flames of War
. Here are my thoughts on each (with some eye candy).
Spoiler: I really like them.
Guard Towers:
The towers comprise 12 pieces (4 legs, a base, 2 wall frames, 4 walls, 1 roof, 1 ladder).
They go together very easily, with everything fitting snugly. I attached everything but the roof, so I can put a team in there as needed.
PSC StuG with Battlefront Riders
They fit a small base very well, as you can see:
All told, these will make a great addition to an airfield, fortified town or other battlefield, especially once painted.
Now for the main course, the Truss Bridge:
This thing comes with lots of pieces. It took me a bit to figure out how it all went together, but once I did, it was a pretty easy assembly.
Pavement sections
The inner frame of one of the ramps
The bridge
One of the ramps with the outer shells on
The bridge itself is ~"10 and "2.5 wide between the struts. You can use it with or without the ramps, which raise it up about "2 off the ground.
The bridge is a really great piece. You could use it for Arnhem, Remagen or any number of other settings. Hopefully this stuff will go up on on the www.impudentmortal.com webstore soon, because it's great.
-Maurice