After the months of planning it was over so quick...The Frontal Assault
Flames of War
Tournament co-sponsored by
The Foundry Game Store
in Huntsville Alabama and the
WWPD Podcast
was a complete success...and a great time was had by all. I want to give a special thanks to all the players for making it easy on me as a TO...and an extra special shout out to the "out-of-towners" who came to fight.
The cast of Characters:
Axis:
| Player Name | Army | Book |
| --- | --- | --- |
| Steve Toth | Hungarian Gepkocsizo Lovesz Szazad | Eastern Front |
| Jason Tucker | Romanian Batalion Puscasi | Eastern Front |
| Ben Tucker | Italian Battaglione Fucilieri (Sicily) | North Africa |
| Mark Kilness | German Panzerpionierkompanie | North Africa |
| Daniel McCoy | Finnish Jaakari Company | Jaakarikomppania pdf |
| Charlie Clay | German Afrika Schutzenkompanie (21.) | North Africa |
| Daniel Ashby | German Fallschirmjaegerkompanie | North Africa |
Allied:
| Player Name | Army | Book |
| --- | --- | --- |
| Michael Raper | US Tank | North Africa |
| Bill Tucker | US Rifles | North Africa |
| Jose Sto Tomas | US Armored Rifle Company | North Africa |
| Paul Applebaum | British Paras | North Africa |
| Rick Ashby | British Light Armoured Squadron | North Africa |
| Robert Ramey | Soviet Strelkovy Batalon (Guards) | Eastern Front |
| Connor Kelley | Soviet Tankovy Batalon (Red Army) | Eastern Front |
We had 14 players, evenly split with 7 Allies and 7 Axis. The split is important due tot he tournament format. We used what I call the "Battleplan" format, a modified story/campaign format. Here each table is a sector on a battle map. Each sector has 7 victory locations. The tournament starts with the center location being neutral and the Allies control the 3 on their half of the map and the Axis control the 3 on their half. The level of win determines how far the control shifts. A 4-3 win gives you control of the location you are currently on; a 5-2 advances you 1 location into the enemy's area; and 6-1 moves you 2 locations. A side controls all locations between their base line and where they are currently fighting. The missions are determined by what the previous mission was on that sector; who won; and by how much. Round one started with Hasty Attack and with the Axis as being the attacker in place of rolling to see who attacks in case of tie in the order of seeing who attacks.
Starting Map
A quick look at the tables:
Round 1 started of with all players doing Hasty Attack.
Round 1 ended with the Axis having a slight lead of 9 locations to 8
End of Round 1 Map
Round 2 kicked of with a mix of Pincer and Counterattacks as The Allies attempt to regain lost ground and one table had a Breakthrough based on a 6-1 win on the table in the previous round.
Sadly, High Command made a terrible error in judgement and placed the Brit Honey Squadron in a city fight vs Finns (Sorry Rick...my Command Staff has been sacked).
Round 2 ended with the Axis extending their lead 14 to 11. A lot of 4-3s and when the Axis had a 4-3, they turned an Allied location and when the Allied had a 4-3 they just held on to their location.
End of Round 2 Map
Round 3 saw the Axis breakaway and seal the win with a mix of Breakthrough, Counterattack and Pincer attacks.
Final Map
Final results came down to:
Axis:
Player Name
Round 1
Round 2
Round 3
Overall
Steve Toth
6-1
1-6
4-3
11
Jason Tucker*
4-3
3-4
6-1
13
Ben Tucker
6-1
4-3
1-6
11
Mark Kilness
1-6
3-4
6-1
10
Daniel McCoy
5-2
6-1
6-1
17
Charlie Clay
6-1
4-3
1-6
11
Daniel Ashby
1-6
5-2
6-1
12
Allied:
Player Name
Round 1
Round 2
Round 3
Overall
Michael Raper
6-1
3-4
1-6
10
Bill Tucker
1-6
2-5
1-6
4
Jose Sto Tomas
1-6
4-3
6-1
11
Paul Applebaum
1-6
4-3
1-6
6
Rick Ashby*
3-4
1-6
3-4
7
Robert Ramey
6-1
6-1
6-1
18
Connor Kelley
2-5
3-4
1-6
6
Awards:
Round 1 & 2 Drawing Prizes and the Tanks are for Best Painted
Best Painted $30 and a PzIVF2 Platoon painted by WWPD Dirty Jon to Steve Toth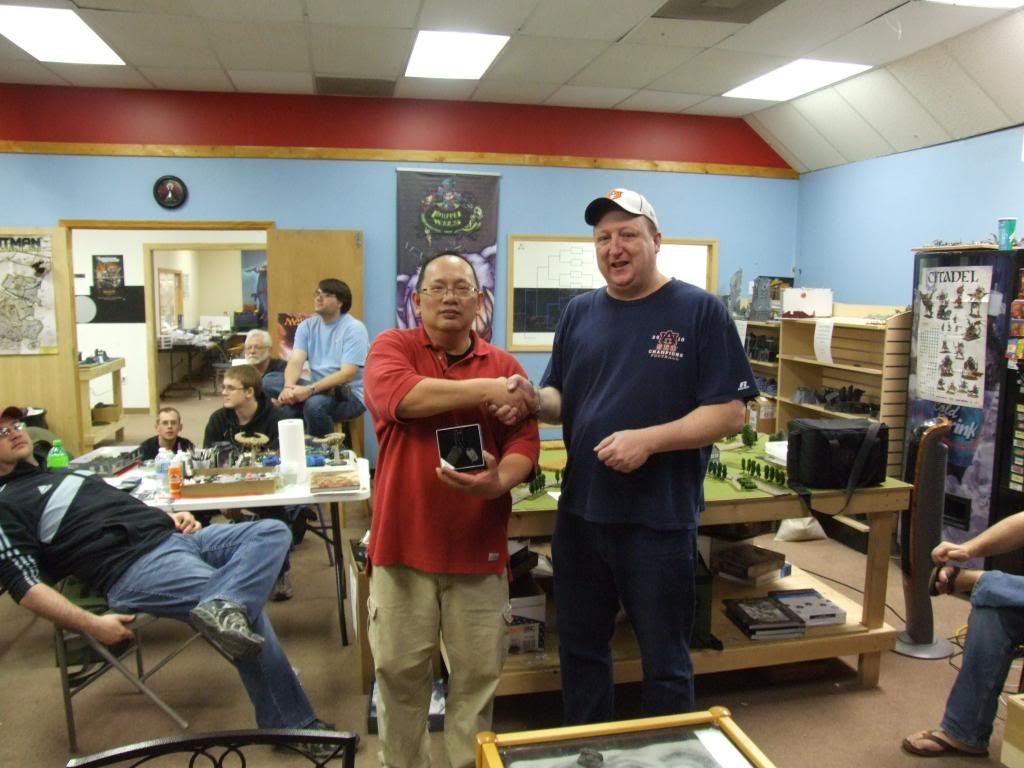 Best Allied General $30 and Dog Tag Award to Jose Sto Tomas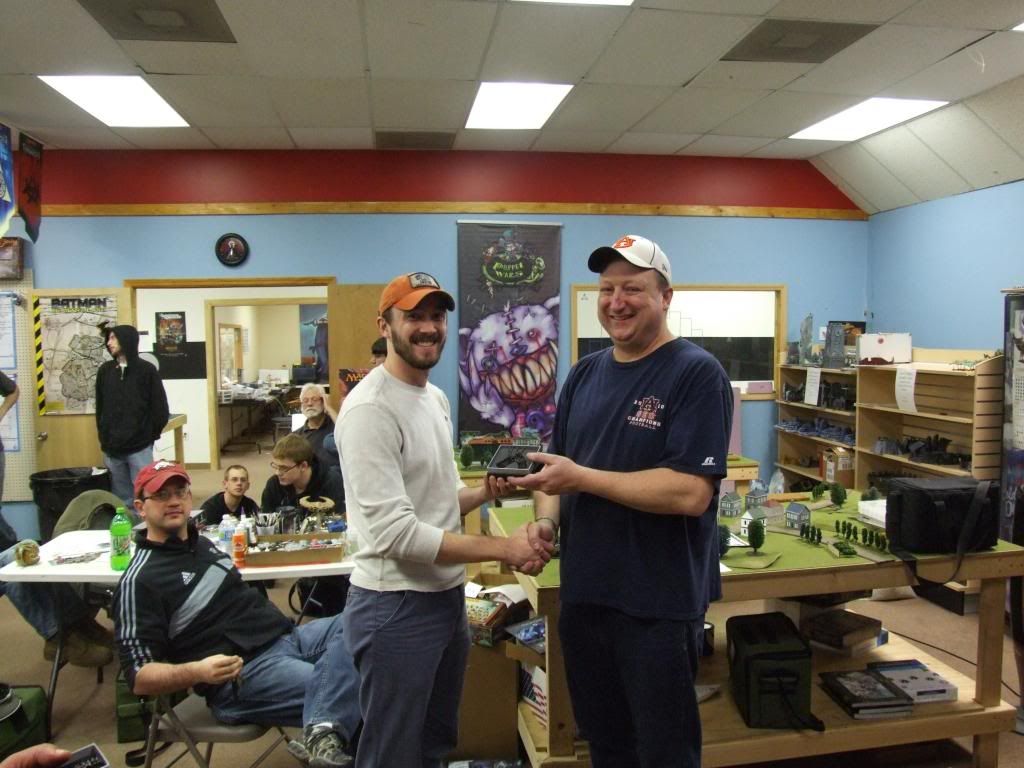 Best Axis General $30 and Dog Tag Award to Daniel McCoy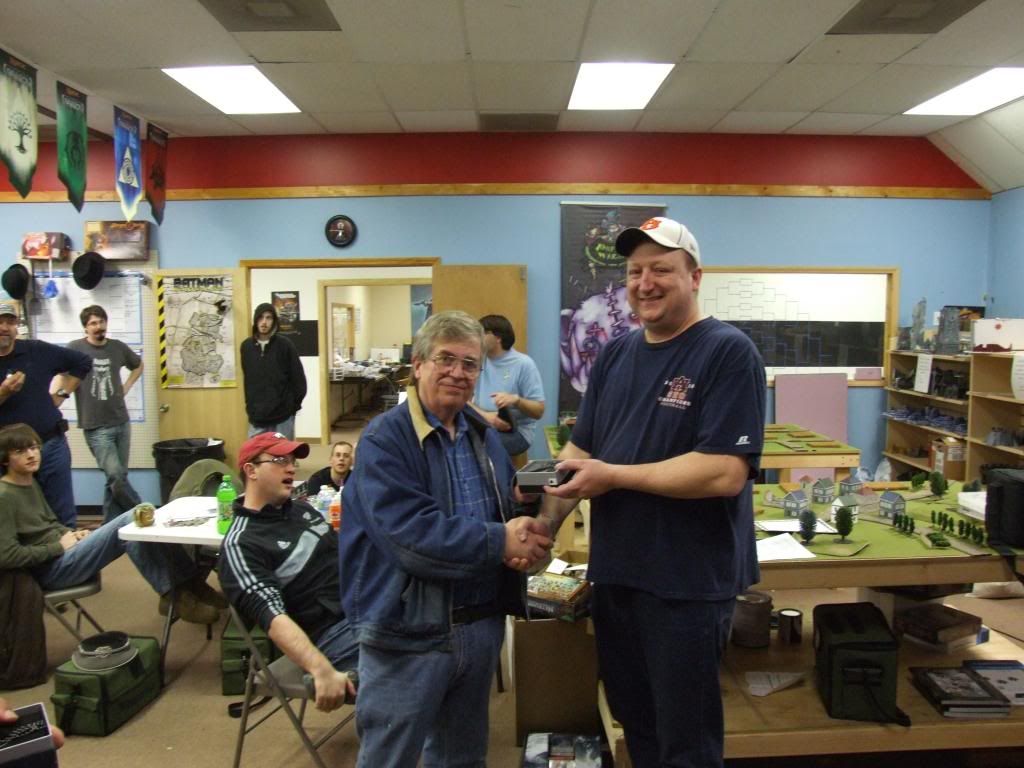 Best Overall $50 and Dog Tag Award to Robert Ramey
Drawings:
Round 1 drawing: Free Wargaming .com Tshirt to Jose Sto Tomas
Round 2 Drawing: 1 year WWPD Premium Content to Daniel McCoy
Grand Prize $200 Store Credit --- Peiper's Charge Boxed Set to Mark Kilness
Fun Pics:
My new favorite objective of all time (KV1 is crushing an AT Gun with Finns blowing it up)
Mark Kilness' German Pioneers
Michael Rapers US
Daniel McCoys Finns
Charlie Clay's DAK (Pic from Jose Sto Tomas)
Stev Toth's Hungarians (Pic from Jose Sto Tomas)
Jason Tucker's Romanians (Pic from Jose Sto Tomas)
Conner Kelly's Tankovy (Pic from Jose Sto Tomas)
Looks like everyone had a great a time. I look forward to running Frontal Assault 2 next year around President's Day. Have to go bigger and better! Again special thanks to The Foundry and WWPD for sponsoring this event and to the players who traveled to join us in Huntsville. It was a pleasure meeting y'all and look forward to seeing you on the table soon!