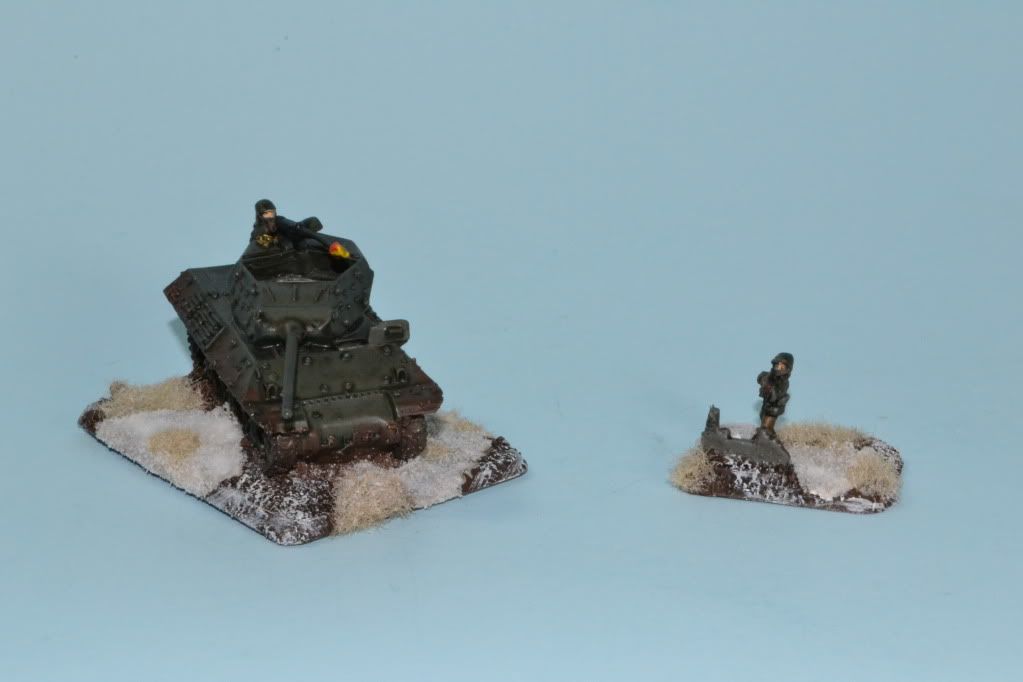 The
Audie Murphy Hero
can be found in the new
Devils Charge
book from Battlefront. You can field him as a single hero or as a HMG bunker objective. Below is a clip from
To Hell and Back
, a movie staring Audie Murphy about his time during the War. This is a clip of the battle where he won the medal of honor. Even though there are some inaccuracies it is still pretty cool.
Audie Murphy Bio
from Wikipedia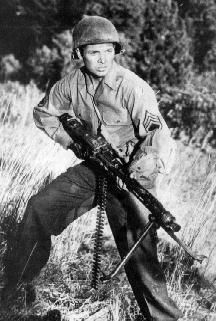 Audie Leon Murphy was one of the most decorated American combat soldiers of World War II. Through LIFE magazine's July 16, 1945 issue ("Most Decorated Soldier"), he became one of the most famous American soldiers of WWII and widely regarded as the most decorated American soldier of the war. After the war he became a celebrated movie star for over two decades, appearing in 44 films.
During twenty-seven months in action in the European Theatre he received the Medal of Honor, the U.S. military's highest award for valor, along with 32 additional U.S. and foreign awards (medals, ribbons, citations, badges) including five awards from France and one from Belgium.
Medal of Honor
On January 26, 1945 with 24 inches of snow on the ground, Audie Murphy's unit participated in the battle at Holtzwihr, France. After fighting for some time, Murphy's unit was reduced to an effective strength of 19 out of 128. Murphy sent all of the remaining men to the rear while he shot at the Germans with his M1 carbine until he ran out of ammunition. He then climbed aboard an abandoned, burning M10 tank destroyer and used its .50 caliber machine gun to cut down the German infantry, including one full squad of German infantry who crawled in a ditch to within 100 feet of his position. He was able to call in artillery fire using a land-line telephone and, under heavy fire, was wounded in the leg. He nonetheless continued his nearly single-handed battle for almost an hour. He only stopped fighting when his telephone line to the artillery fire direction center was cut by enemy artillery. As his remaining men moved forward, he quickly organized them into a counter-attack which ultimately drove the enemy from Holtzwihr. For these actions, Murphy was awarded the Medal of Honor.
Battlefronts Audie Murphy box
(US886) come with both a Audie Murphy figure mounted on a small base and with Audie Murphy mounted on the back of a knocked out M10.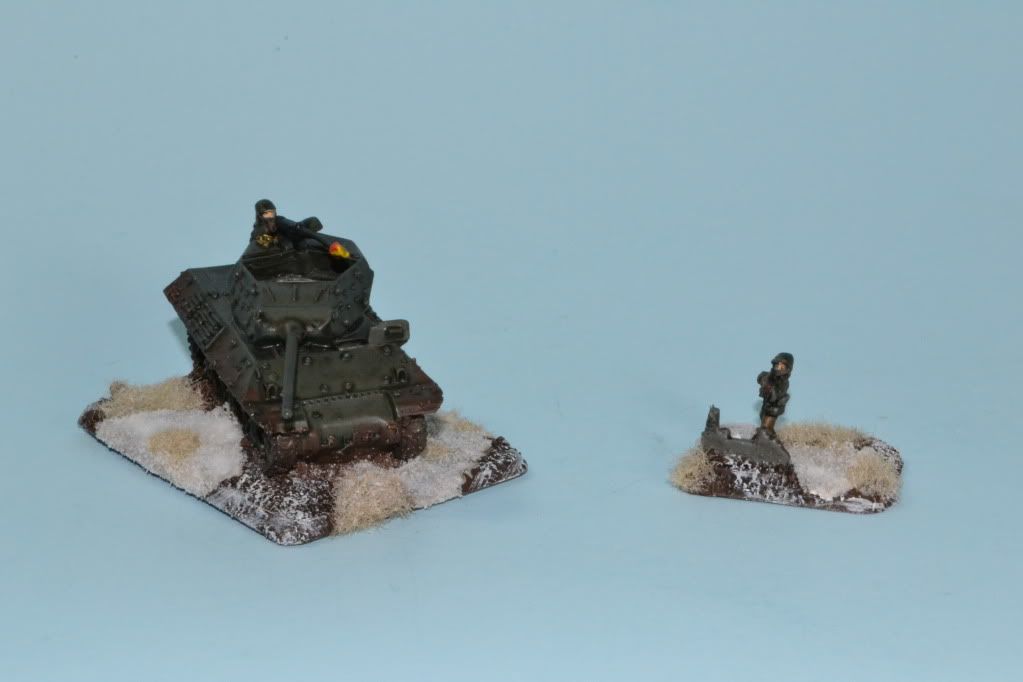 I personally found the single figure, meh. Its not bad, but its not anything special and there isn't much that distinguishers it from any other single infantry figure with a M1 carbine. If you wanted to field Murphy as a single figure you could just mount a lone infantry figure with an M1 Carbine on a small base.
You may field Audie Murphy as either a Company Command Carbine team or a Command Rifle team for +35 points. Audie Murphy is a Warrior and is rated Fearless Veteran. He does not change the Motivation rating of a platoon he joins. Murphy does not get the usual +1 penalty to the score needed to range in.
Here are the Audie Murphy Special Rules
Three Purple Hearts
If the opponent fails to kill Murphy using the Warrior Infantry Team Casualties rule (see page 106 of the rulebook) you do not need to remove a friendly Infantry team. Murphy, although wounded, fights on alone.
Distinguished Service CrossMurphy may re-roll failed Skill Tests to hit a Bunker in an assault.
Two Bronze Stars
Audie Murphy has Tank Assault 3.
Two Silver Stars
Murphy may make a Reconnaissance Deployment Move as though he was a Recce team, separately from the rest of his platoon. Note that this might mean that as a Platoon Command team, Murphy begins the game Out of Command.
While the single figure is meh, the Audie Murphy figure mounted on the back of the M10 is
AWESOME!
The Audie Murphy figure is leaning into the .50 cal with muzzle flashes blazing away at the incoming Germans. It makes me want to special order a bunch of extra Murphy figures and mount them on random Sherman tanks for extra added effect. My only complaint about the M10 Audie Muphy figure is the M10 is one resin piece and turret does not turn. Because of this, you could not use it as an regular M10, which would be cool.
Instead of fielding Audie Murphy as a Warrior team, you may field him as a Special Objective for 25 points.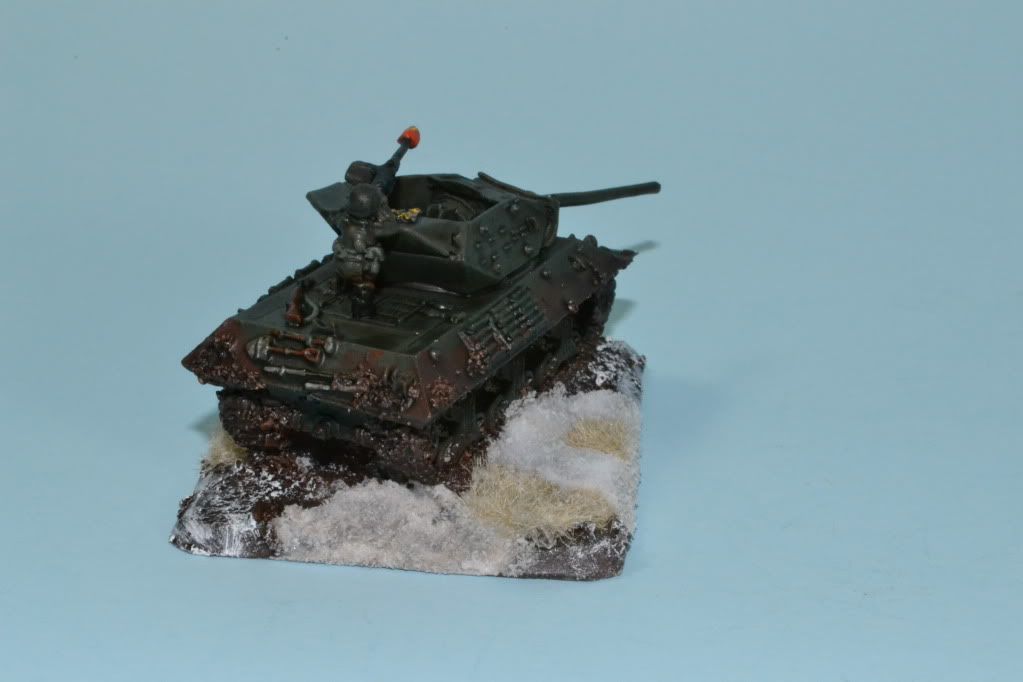 Here are the Objective Special Rules
Medal of Honor
After objectives have been placed, replace any Objective placed in your Deployment Areas with the Audie Murphy Special Objective. If there are no Objectives in your Deployment Area, you cannot use the Special Objective. The Special Objective retains all of the usual rules of an Objective.
In addition, the Audie Murphy Special Objective is also a .50 cal Nest, using the normal Bunker rules found in the rulebook.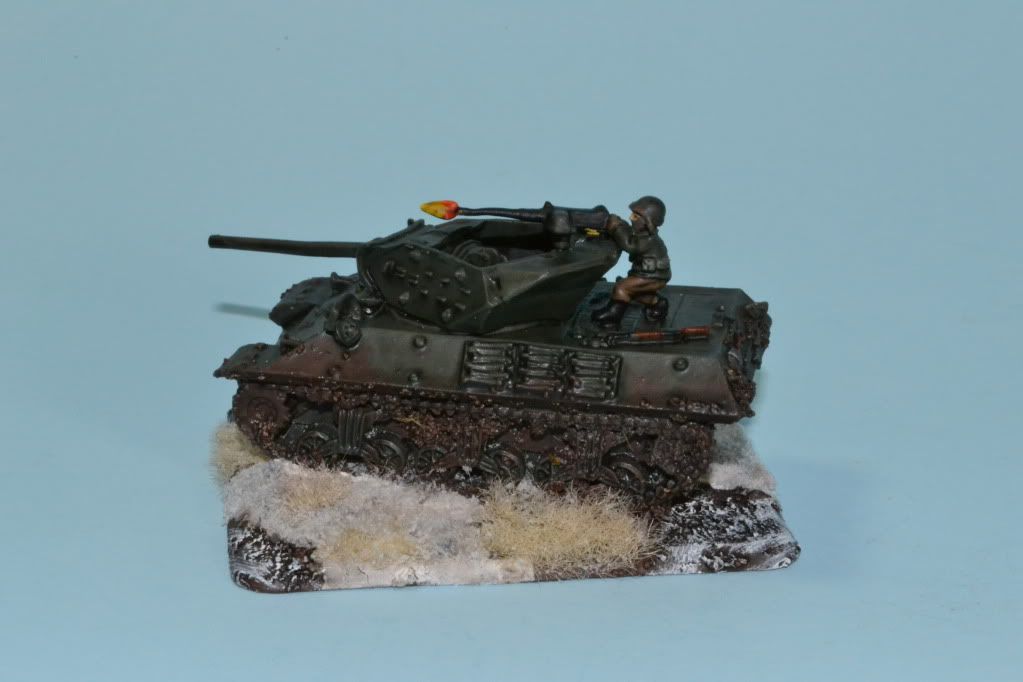 The .50 cal Nest can Spot for Artillery Bombardments as if it was a Company Command team, but without the usual +1 penalty to the score needed to Range In (see page 126 of the rulebook). It cannot prevent the enemy from taking Objectives.
If the .50 cal Nest is Destroyed, the Objective reverts to being a normal Objective.
I would strongly recommend getting this objective marker if you play US, even if you don't take the Audie Murphy objective, it will still look cool on the table.
"Craig Baxter is the Director of the WWPD Northern Research center in Anchorage, AK. When he's not contributing to WWPD.net he is busy blogging, painting, modeling and rolling dice. You can find more of his work and articles at frozengamerak.blogspot.com."