We have all learned fairly quickly that recon is a must have in
Flames of War
Version 3. Whether you are trying to thwart Black Juan Melia's Tank Destroyers, or No Good Dirty Jon's Marder III Ms, any good strategy needs to include the use of recon troops. Each nationality has a variety of recon troops available for their commanders to use. From ground pounding rifle scouts to armored cars, these sneaky World War Ninjas can pick out an ambush, reveal troops that are dug in deep, or sneak up a flank at lightning speed, giving you the advantage you need to beat your enemy.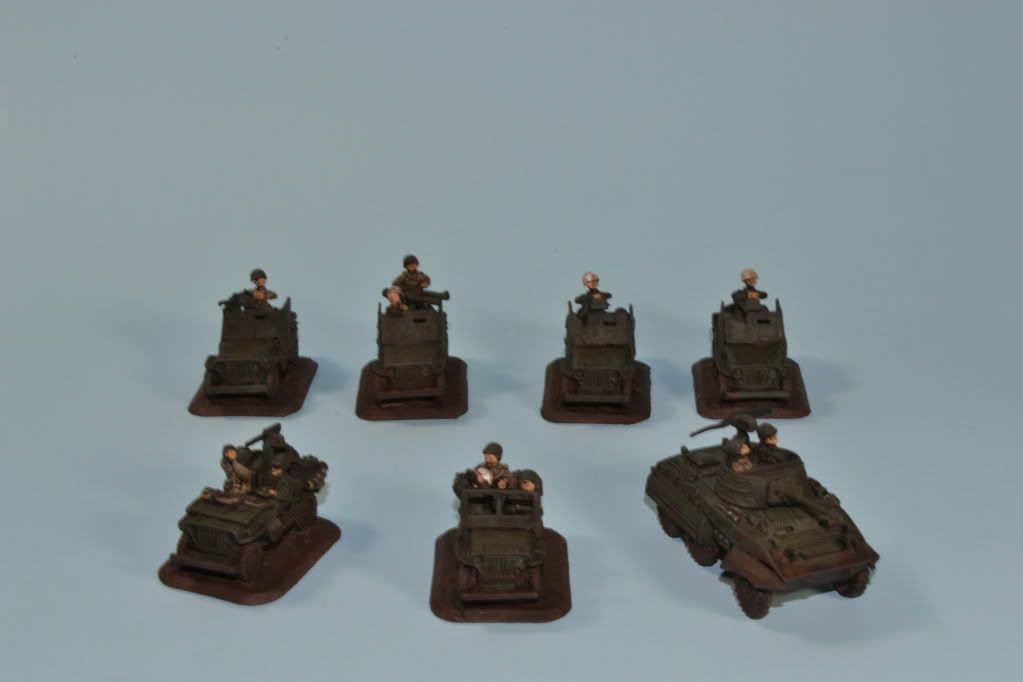 The US has multiple recon platoons at its disposals. One of the most popular recon platoons is the Cavalry Recon. Cavalry Recon Platoons include one M8 Grey Hound, one Recon Jeep with AAMG, and one Mortar Jeep. Battlefront sells the entire
Cavalry Recon Platoon
in a single blister pack. I recently got my hands on said blister pack and put it together.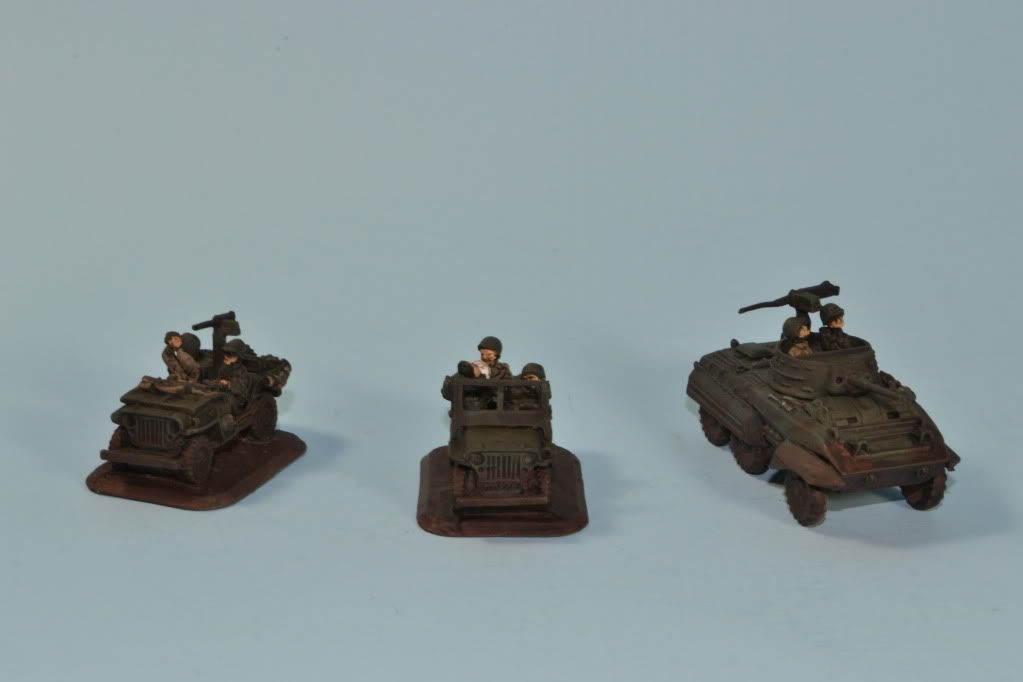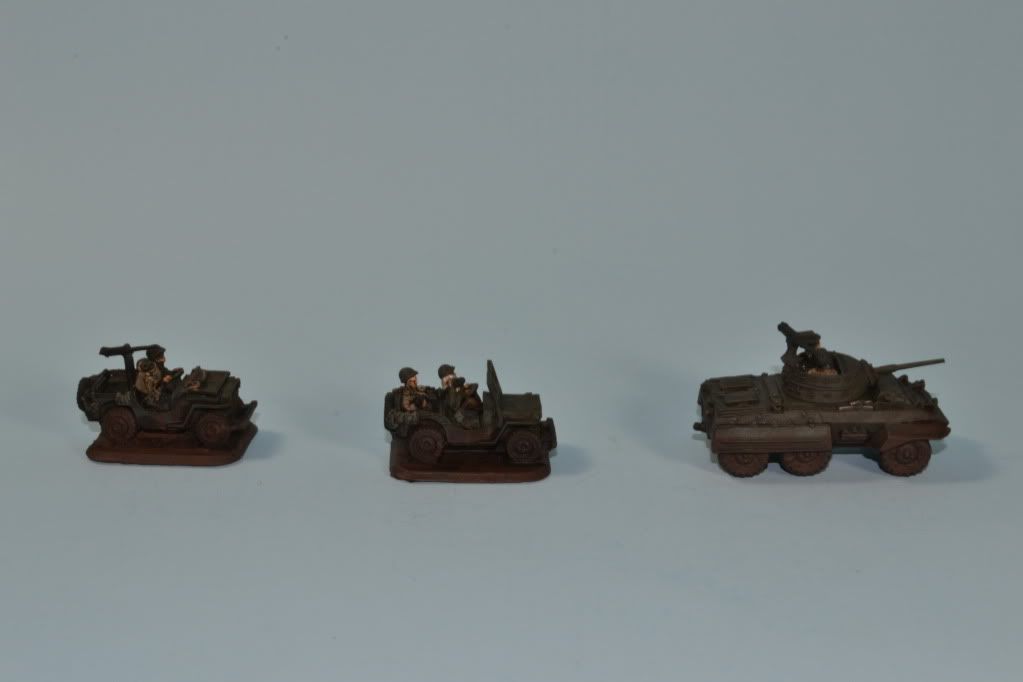 The Recon Jeep can mount a .50 cal or a .30 cal AAMG. These are nice for laying down fire and giving you some integral AA.
The mortar jeep gives you some added fire power to knock out dug in gun teams that your recon has spotted. The mortar jeep is similar to all the other Battlefront Jeeps, except the guy in the back seat is holding the mortar. I like the figure, but wish it had the mortar set up in the back.
The M8 gives you the fire power to deal with other recon or light vehicles. I have used mine to knock out armored cars and armored AA.
The true strength of the Cavalry Recon Platoon is that the platoon is a recon swiss army knife. Remember, the recon and mortar jeep has a big advantage over other soft skin vehicles because unarmored recon vehicles save on a 3+ giving the Cavalry Recon some added survivability.
Another recon platoon available to the US Rifle Company (in
Devils Charge
for example), is the
Intelligence and Recon Platoon
, also known as an I&R Platoon. The IR Platoon consist of a HQ with a .50 call jeep and three recon jeeps with AAMGs. The recon jeeps can be upgraded to .50 cal recon jeeps but all can abe upgraded to armored .50 cal recon jeeps, giving them armor 0 on the front, side and top. The only down side to the armored recon jeeps is that they are overloaded. Since I have a ton of .50 cal jeeps, I made mine armored.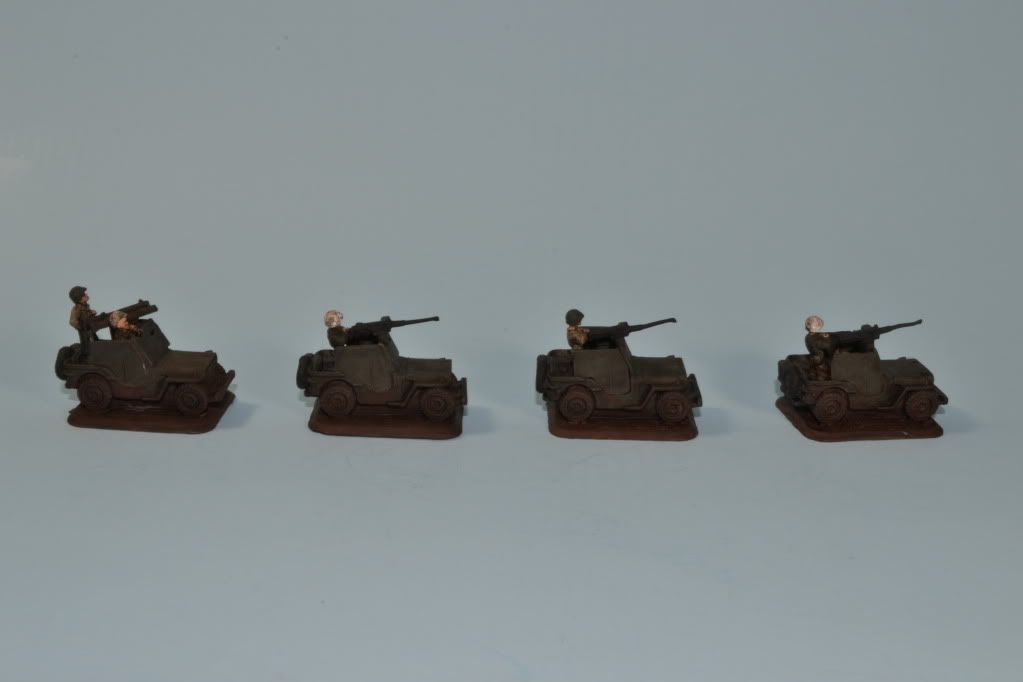 One additional perk the IR platoon gets in Devil's Charge, is the ability to upgrade one recon jeep to a twin bazooka jeep, which is a hull mounted ROF: 2, AT: 10, FP: 5+ recon tank killer.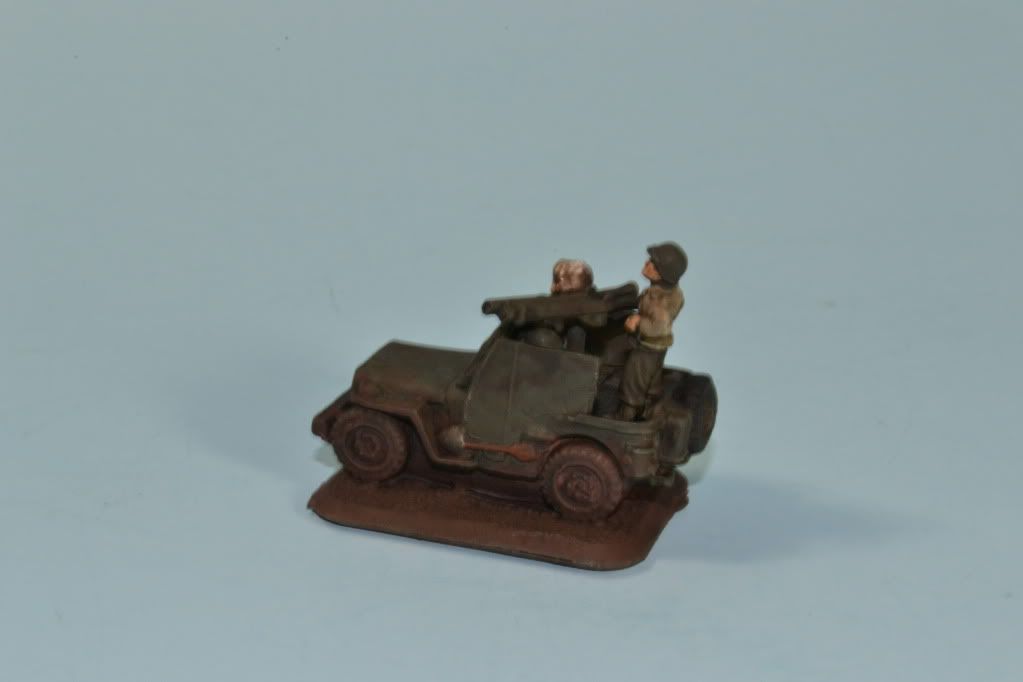 I don't know how much I will play with this model, but it is so cool looking.
One of the most famous recon platoon of the War was the IR platoon from the 394th IR from the 99th Infantry Division. The 18 men of the IR Platoon, commanded by Lt. Lyle Bouck, defended Lanzerah Hill from an onslaught of German Paratroops during the opening of the German Winter Offensive of 1944. These two videos from Shootout! documents their heroic feats.
The story of the IR from 394th reminds me of an important thing - most US recon platoons have ability to start the game dismounted. When dismounted you get to choose the team types from a list given to you in the platoon diagram. This can be beneficial if you are defending against a tank horde that you have no chance of hurting while mounted or if you want to bulk up with extras MGs against an infantry horde.
If you run your US recon different or have a favorite recon tactic share it on the WWPD forum.
"Craig Baxter is the Director of the WWPD Northern Research center in Anchorage, AK. When he's not contributing to WWPD.net he is busy blogging, painting, modeling and rolling dice. You can find more of his work and articles at frozengamerak.blogspot.com."