Battlefront
sent us a new box set -
Königstiger (GBX69)
- for review. I had seen the previews of this and I really wanted to get my brushes on it!
The sculpt looked very nice. It is big and chunky and did not have much flashing. The tracks looked very good and had a remarkable lack of flashing as well. The model did grow a shade longer over previous versions that I own. I also thought that the faces on these models were very well done and more detailed than previous models.
I don't know why everything is turning out super-yellow and has a shine in my pics lately. The tank is darker than appears and does not shine in person. (
Editor: This is why.
)
This box comes with everything you need to build 1 Late War Königstiger. No
Zimmerit
on this bad boy! The one weird thing with this box set is all the Infantry you get - you have some
FJs
to put on this guy. Looking over the FJs, they had almost no flash at all. You get a hefty resin model with metal accessories - I was a bit disappointed to see no sign of plastic anywhere. Magnets and decals are also included.
Above, see all the parts included. At first glance, this seemed like a lot of parts for one tank. However, you do get a ton of spare tanker figs, optional tracks and the Fallschirmjäger are included. I think I counted 13 pieces for the minimum tank -- it is a bit on the high side.
D'oh - I forget to show the decal sheet! It has 4 sets of numbers and 4
Balkenkreuz
. It is at this point that I figure out that the numbers provided are different than on the box. I had planned to model this guy up just like the box, but that seemed to be out. I totally expected to be able to make this look just like the box -- that seems reasonable, right? The numbers provided are solid black, and these wash out if you go with Ambush Camo. I am guessing that the artist who painted the one on the box picked the red/white numbers just for this reason.
So, with my plan dashed, I headed out to the Interwebs and picked a Königstiger to model mine after -- that's why I have the number then the Balkenkreuz.
For assembly, I did my normal thing -- Assemble the main body and turret. Spray these dunklegelb. Spray the tracks in flat black, then assemble. This time, I put the FJs on a Popsicle stick and painted them separately.
During assembly, I did notice that the skirts were mis-cast:
This is disappointing. I have been pretty quick to defend Battlefront here, but this is the second model review in a row with some sort of issue. Now, these are not too bad, but the customer is paying a bit of a premium to avoid assembly and modeling (among other things). I decide to take the extra 10 minutes and a dab of
green stuff
to fix this instead of emailing
Battlefront Customer Service
.
After assembly, I went ahead and painted this guy up! I did have a problem with the Balkenkreuz's printing being mis-aligned. I had to substitute a pair from
Dom's Decals
to complete the model. In the end, I think it turned out pretty damn good -- the model is just awesome looking and I was very impressed with the FJs and how they looked on the tank.
THE GOOD:
- Everything in one box - decals, dice, magnets,
riders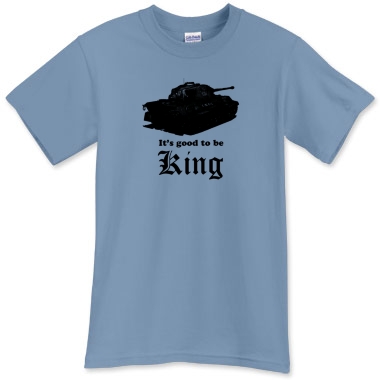 Shirt from WargamingShirts.com!
- Model is well done and has more detail than previous Königstigers
- Price. Did I say that? $23USD isn't bad for what you get in this box...if everything was perfect.
THE BAD:
- Yet another casting issue. I used some Green Stuff to fix it.
THE UGLY:
- The decals were pretty bad. I didn't get what is on the box and the crosses were mis-aligned.
SCORE: 6 out of 10.
In the end, I think the potential of this set is better than the actual set. I would buy this - or the other Battlefront Königstiger box - before turning to any other manufacturer offering. For me, the model is just 'UGE, chunky, aggressive and cool. Let's hope that some of the issues I found in this set are resolved soon.
All models provided by Battlefront Miniatures.