REVIEW
With the release of Hellfire and Back, I knew I had to make a BAR of my own. I hadn't seen any made of primarily A9s yet and that concerned me. It concerned me because the A9 has to be one of the absolute coolest tanks ever conceived! Twin Deck Turret MGs? YES PLEASE!
So I ordered 4 A9 CS tanks, and 20 A9 Cruisers from
Game Models
. I also threw in an A13 just to see how it was and in preparation of BAR #2. You all have heard us time and time again talk about Game Models and these tanks are no different. They are low quality compared to the Battlefront models, but their price is equally low! This, like my
IS-2 Polk
, is an army I don't plan to have on the table all that often, so I was happy with the trade off.
My attempt at painting caunter is fairly laughable I suppose. I know I could make the lines smooth if I went through the trouble of using putty/tape to mask. But frankly, $4 tanks just didn't seem worth the time investment.
Overall I am really quite happy with the outcome! Once they're painted up and on the board I think they look great. Game Models continues to be a reliable source for inexpensive models to bolster your forces!
17 out of 20 deck turret MGs
FROM WIKIPEDIA
The Cruiser was an effective tank in the French, Greek and early North African campaigns. The 2 pdr gun was lethal against the early Italian tanks encountered during the North African campaign and could hold its own against Rommel's early Panzer IIs and IIIs. The A9's 2-pounder gun could also breach the 20 – 30 mm of protective steel on later opponents such as the Panzer III variant D and the Panzer IV D. It was effective until the Germans introduced the more thickly armoured Panzer IV E variant to the desert in Spring 1941. However, the minimal armour made the A9 an easy kill for most Axis anti-tank weapons. Also problematic was the lack of High Explosive shells for the 2 pdr gun and even worse the lack of AP for the 95 mm gun on the Close Support version. Another issue was that the areas around the front machine gun turrets created a frontal surface that was more vulnerable to enemy fire than it would have been had it been a flat plate, let alone a sloped glacis.
The mechanical unreliability of the Cruiser was also a disadvantage. In particular, tracks were easily slewed causing difficulties.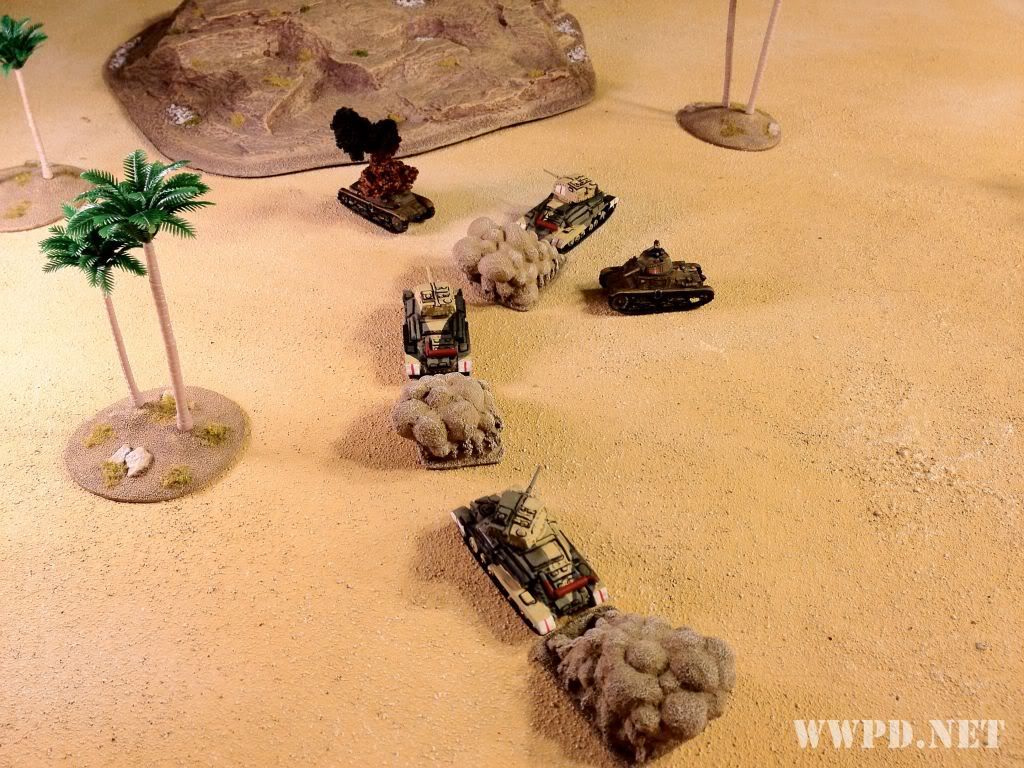 THE A9 CRUISER MK I IN FLAMES OF WAR
Name
weapon
Mobility
range
Front
ROF
Side
anti-tank
Top
Firepower
Equipment and Notes
A9 Cruiser Mk I
QQF 2 pdr Gun
Fully Tracked
24"
1
2
0
7
1
4+
Co-ax MG, Two Deck Turret MG, Unreliable
Broadside, Tally Ho!, No HE
A9 Cruiser Mk I CS
QQF 3.7" howitzer
Fully Tracked
24"
1
2
0
3
1
4+
Co-ax MG, Two Deck Turret MG, Unreliable
Broadside, Tally Ho!, Smoke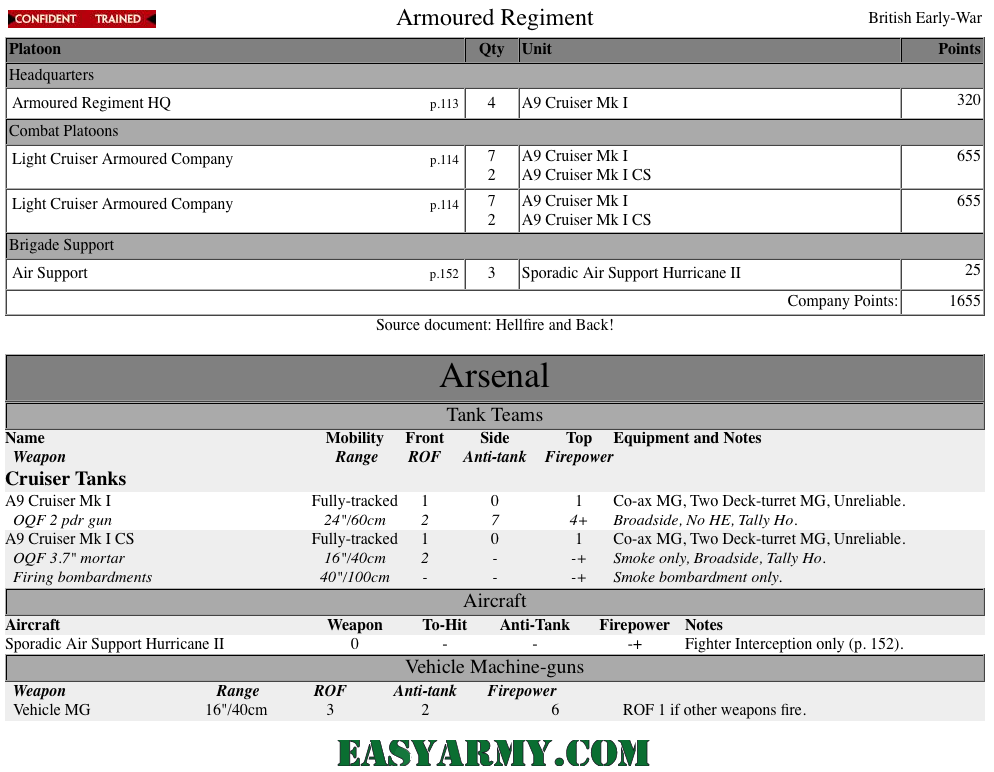 Thanks to Easy Army I can see exactly what I can bring to bear before adding any support options!