THE PANZER SHOWER
As many of you may know, My wife and I are expecting a little one in the next few weeks! So some of the guys and my wife decided it would be cool to have a "Man Shower" which quickly turned to "Panzer Shower". Sean ran with the idea and organized the whole event- a big game hosted at his family's home in picturesque Montpelier VA.

We had 8 players show up- 4 soviets and 4 axis. Ron Bingham, Rob Eubanks, Tom de Mayo (who's crotch you've seen in plenty of battle reports on this site) and I all represented the soviet side. While Sean, my father, Dirty Jon, and Pete Ellis played across the tables as the axis. The boards were set up in a T fashion on Sean's large screened porch and the weather was absolutely perfect.

The guys all brought gift cards for my wife Lydia to help with baby stuff. Lydia showed up a little later with a cake, and we all were well fed due to Sean's grilling and his mom's amazing party food! The game was very laid back, and I think everyone had a good time. Huge thanks to everyone who came out, and especially to Sean and his family and my wife for going above and beyond!
>>>CLICK TO SEE THE REST OF THE PICTURES!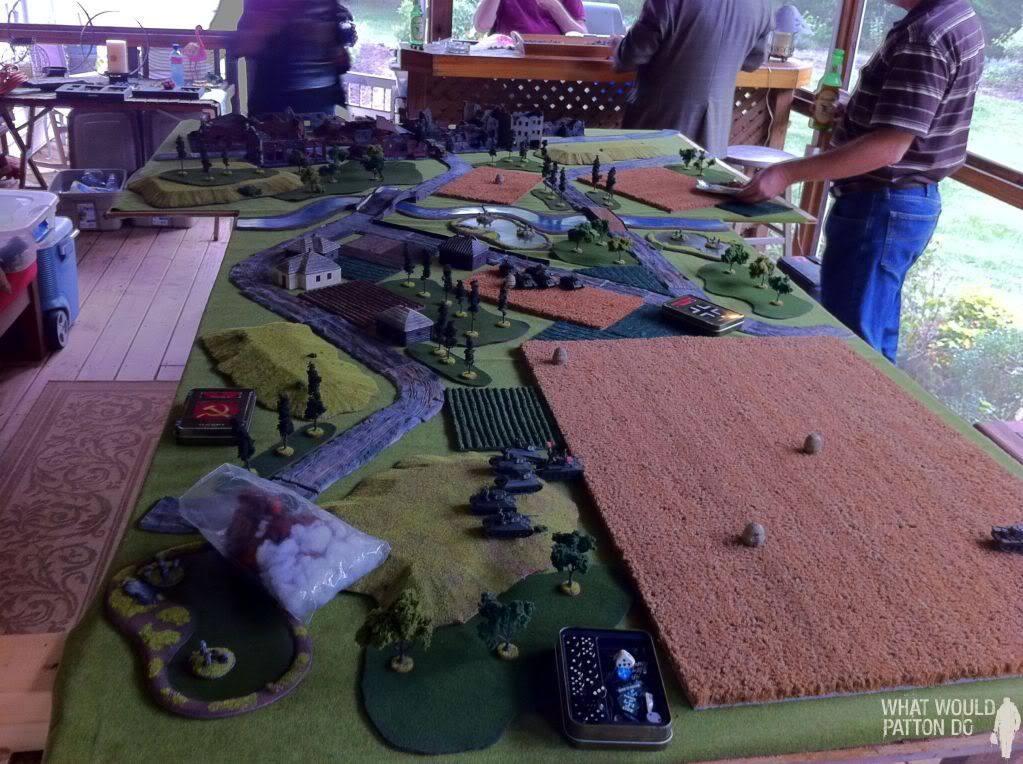 Getting the game set up.
Tom held the soviet left flank, my armor deployed in the center, and to my right was Rob's strelkovy. Ron came a bit late and deployed his infantry behind me.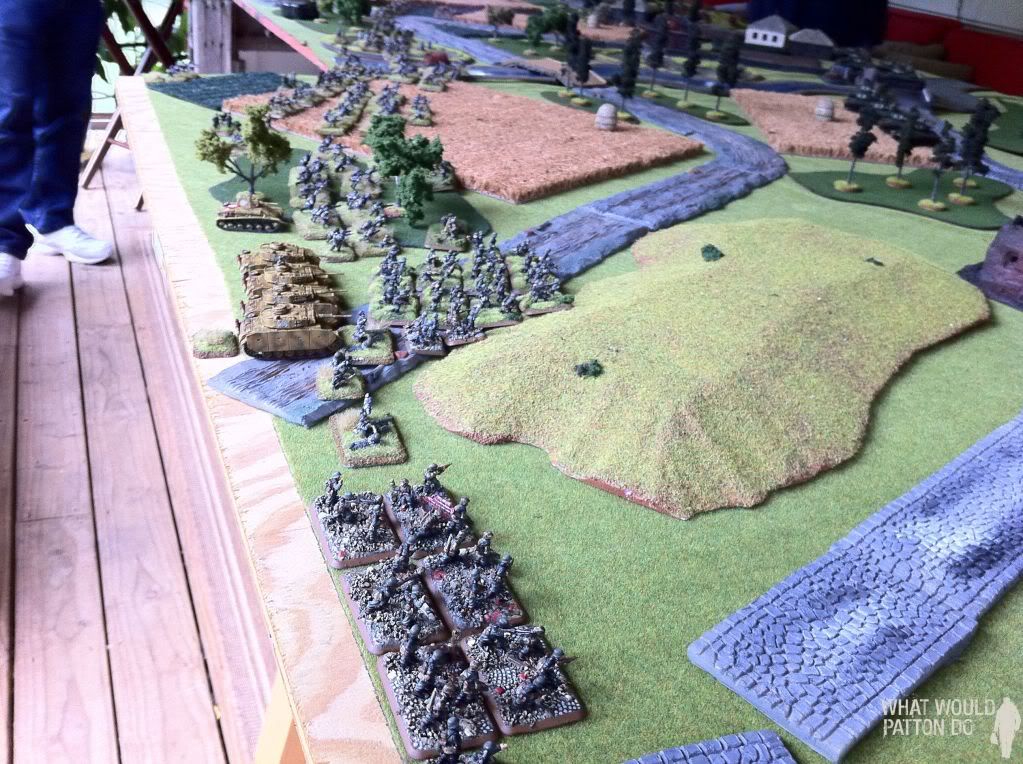 Dirty Jon and Sean deploy together. In the wheat are some of Pete's grenadiers.
The German right flank.
The German left flank with my father's armor in the large wheat field.
MacLowcho Senior's Panzer IVs.
The battlefield.
The game gets started.
Sean's mom went above and beyond! The artichoke dip blew my mind.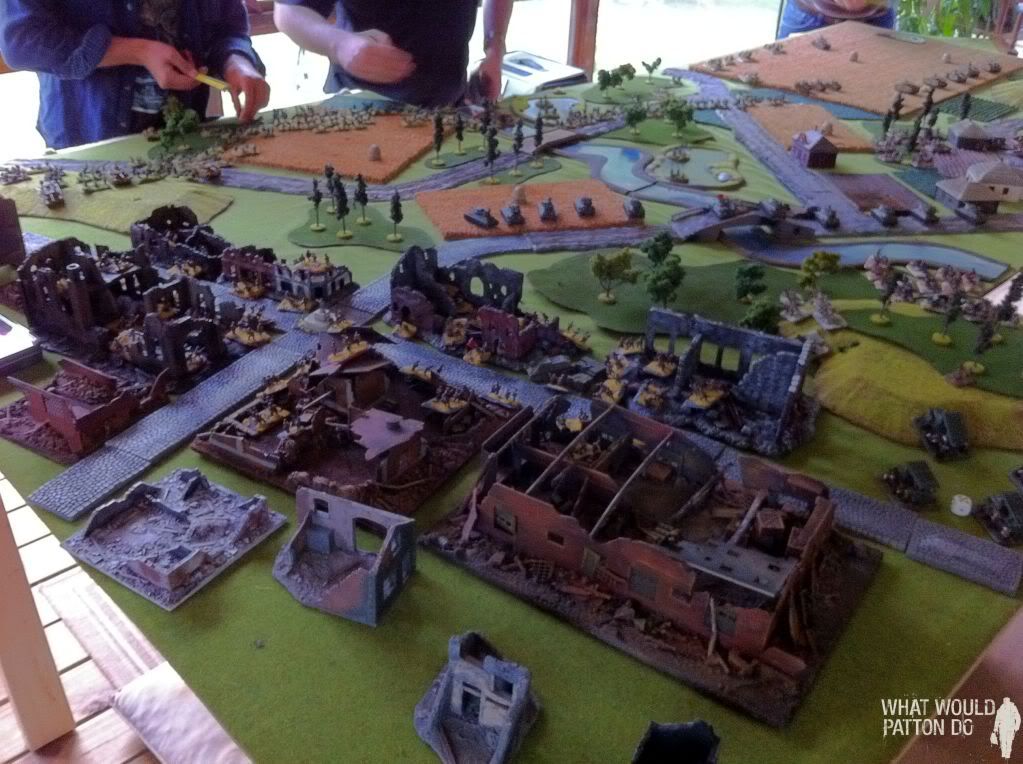 Tom holds Seaningrad.
Lydia's somewhat grusome cake. Note that the dice are trick dice- I swear I won't use em!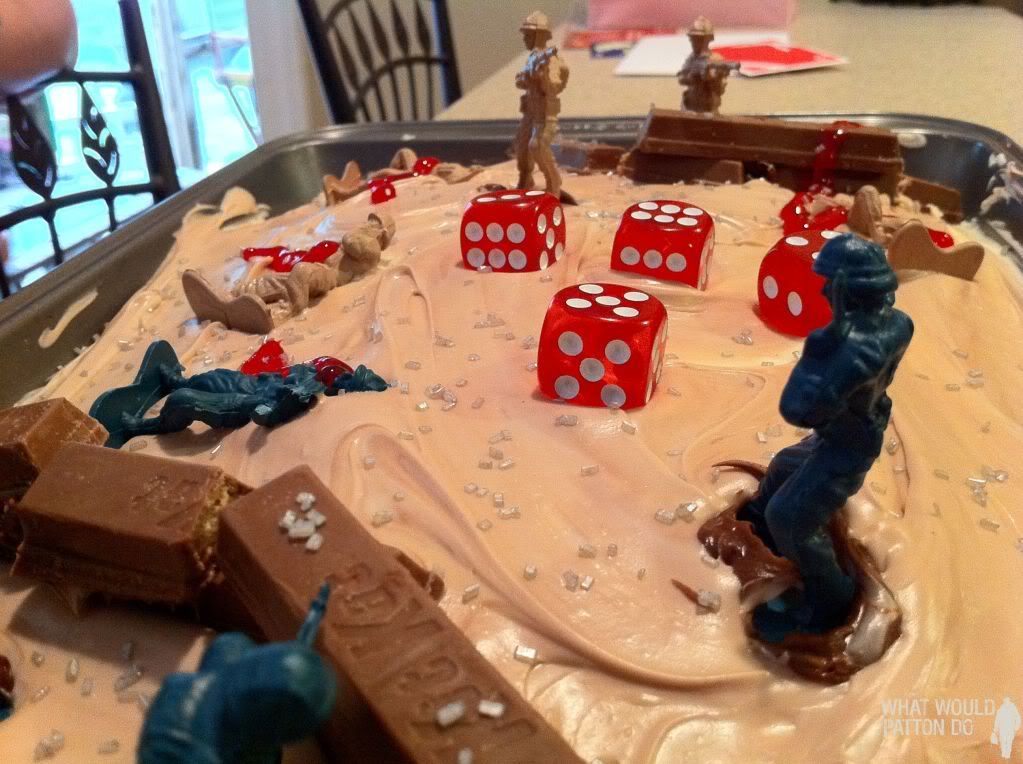 Gruesome. The crystals are supposed to be spent shell casings. My wife rules.
Iron Lydia.
My dad's panzers crash into Rob's lines earning wild initial successes!
My T-34s cut a swathe of destruction in the axis lines.
Lydia oversees the axis right flank.
Sean cooks a mean dog.
Dirty Jon does his best dingo impersonation. I am still chewing hamburger. D'oh!