After Luke and his wife came over to very generously help us paint our nursery (AFTER buying us the paint as their gift to Isabelle!) Luke and I decided to get in a test game for the upcoming Guns of August tournament. The lists were 1200 points, and the mission was Domination.

LUKE'S SOVIET GUARD STRELKOVY


HQ

1st Company with 2 platoons. All Rifles.

1st Company with 2 platoons. All Rifles.

Scout Platoon w/ 3 stands

Tank Killer Company w/ 4 SU-85s

2 Flame Throwers



STEVEN'S GERMAN GRENADIERS


HQ + Panzerknackers + 2 Mortars

Full Grenadier Platoon

Full Grenadier Platoon

HMG Platoon

Pioneers w/ 7 Stands and supply wagon

Looted Panzer Platoon: 1 T-70

3x Panzer IV E

TURN ONE AND DEPLOYMENT
In the upper left: Strelkovy with attached Flame Throwers in front of SU-85s. In the upper center the 2nd Strelkovy. Scouts are spread out in the buildings in the upper right.
Germans from left to right: Panzer IVs, Grenadiers & Pioneers, HMGs, Grenadiers & T-70. The domination points are poker chips. White: 1, Red: 2, Blue: 3.
Soviets have the first turn.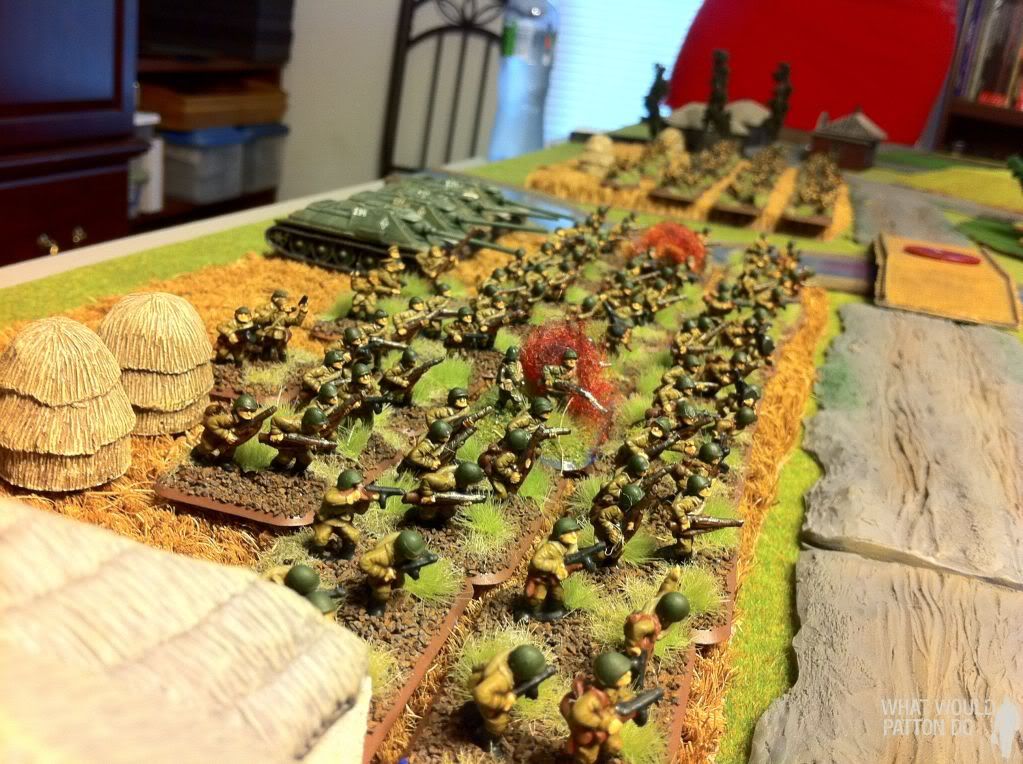 Luke's soviets he got at Historicon backed up by my SU-85s by Game Models.
>>>CLICK HERE TO SEE THE REST OF THE AAR!
Read More