Well our A/C still isn't fixed (Monday we're getting an entirely new system), but Joe Mezz decided that a little summer heat was no reason to call off a battle! Appropriately, we decided a desert match was in order. This time around we did US armor vs Italians. Since Joe hasn't played in a while, I wanted to really take the opportunity to take him back to basics. I gave the yanks a few extra points to ensure combined arms, and made sure to take my time to teach Joe how best to beat.. er.. me. I think Joe is a fine pupil, but he's not a jedi yet- he must.. confront… vader.
Also, Dirty Jon has my Africa book so I can't remember if Rifles can support the US Armor. I'm 99.9% sure they cannot in mid war, but I didn't want to have to add the cumbersome transport rules with the armor rifles, so I let Joe take some regular ol' dogfaces.
The mission was Fighting Withdrawal. I wanted to A) get all the forces on the board, B) Put Joe in a position to be attacking, and C) have a time constraint. It fit the bill.

US ARMOR


HQ 2x Shermans (2iC upgraded to a dozer)

4x Shermans

4x Shermans

5x Stuarts

Rifle Platoon

Priest Battery

Full Recon Platoon



Italian Bersaglieri


HQ (Confident Trained)

Bersaglieri Group (Confident Vet)

Bersaglieri Group (Confident Vet)

Bersaglieri Mortars (Confident Trained)

75mm Cannon Platone (Confident Vet)

5x M14/41 (Fearless Vet)

Lancias (Confident Vet)

DEPLOYMENT AND TURN ONE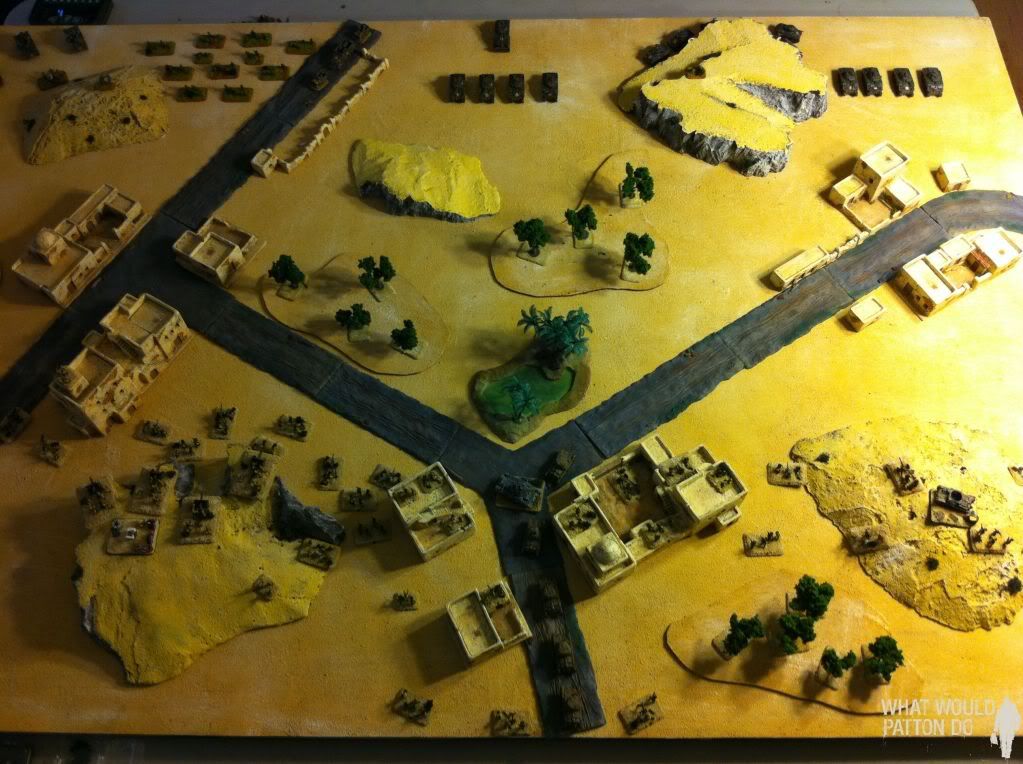 Italians from left to right: Bersaglieri, Cannons (first objective on the lower left hill), M14/41s, Company Command (in range of every platoon!)(Objective in the fork), Mortars, Bersaglieri (objective on the hill).
Lancias in ambush.
Americans from left to right: Priests, Rifles, Recon, Shermans + 2iC, Stuarts hiding, Shermans + Company Command.
>>>CLICK HERE TO READ THE REST OF THE REPORT!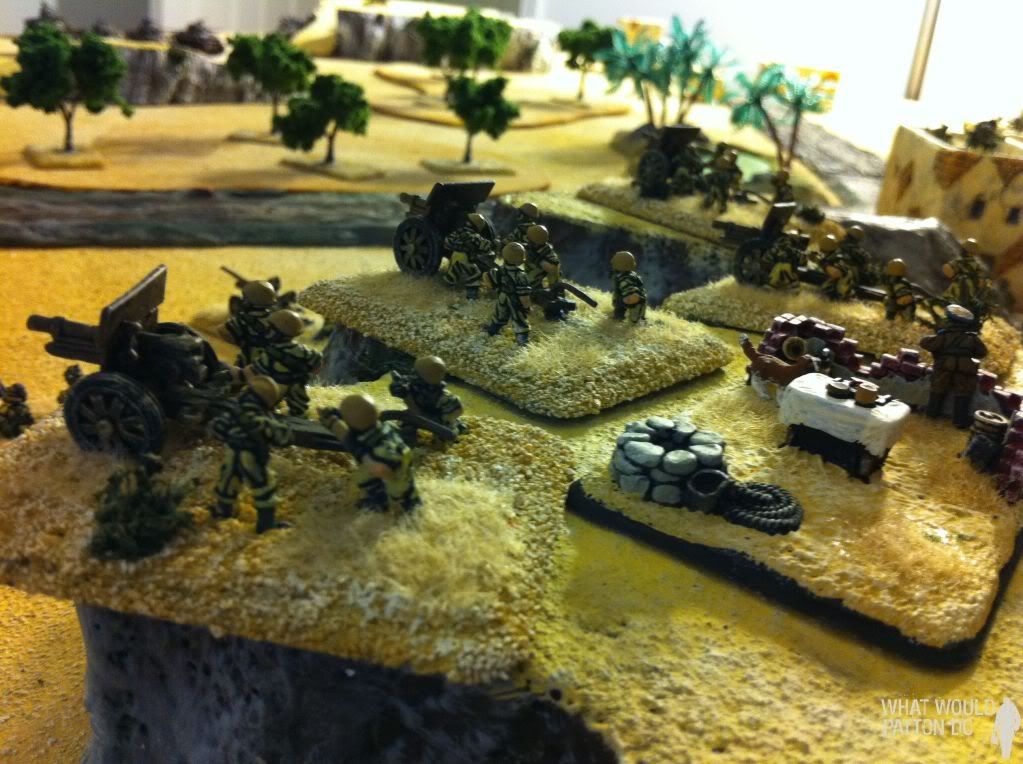 75mm Guns defend an objective.
M14/41s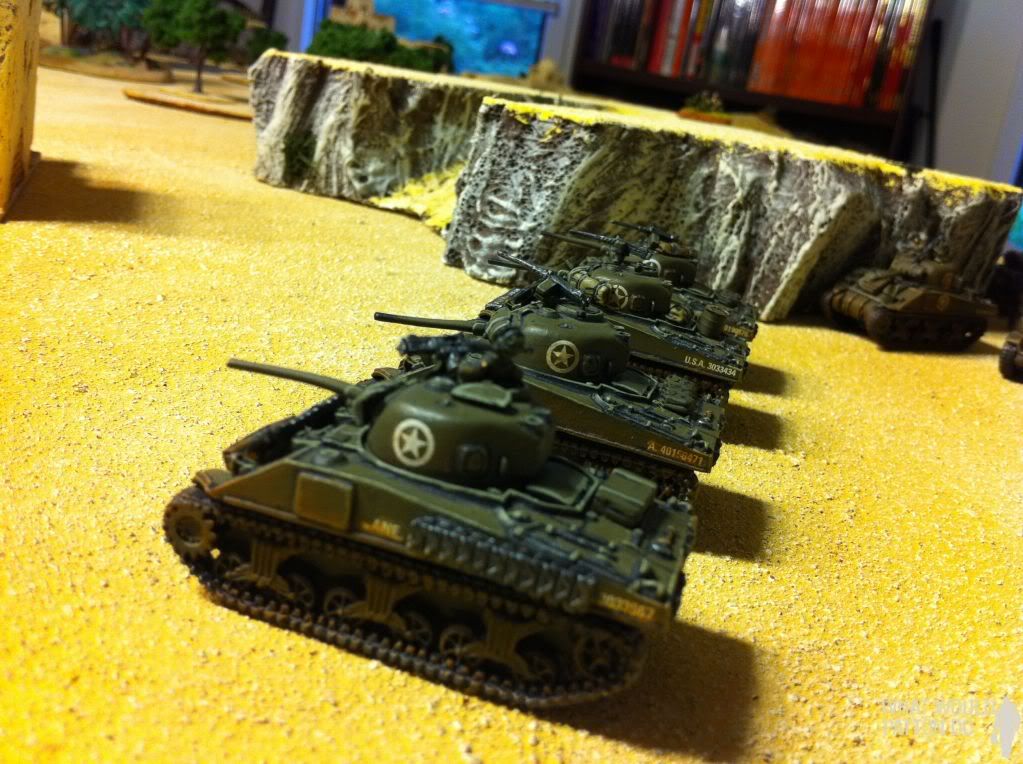 Shermans at the jump off point.
More Yanks.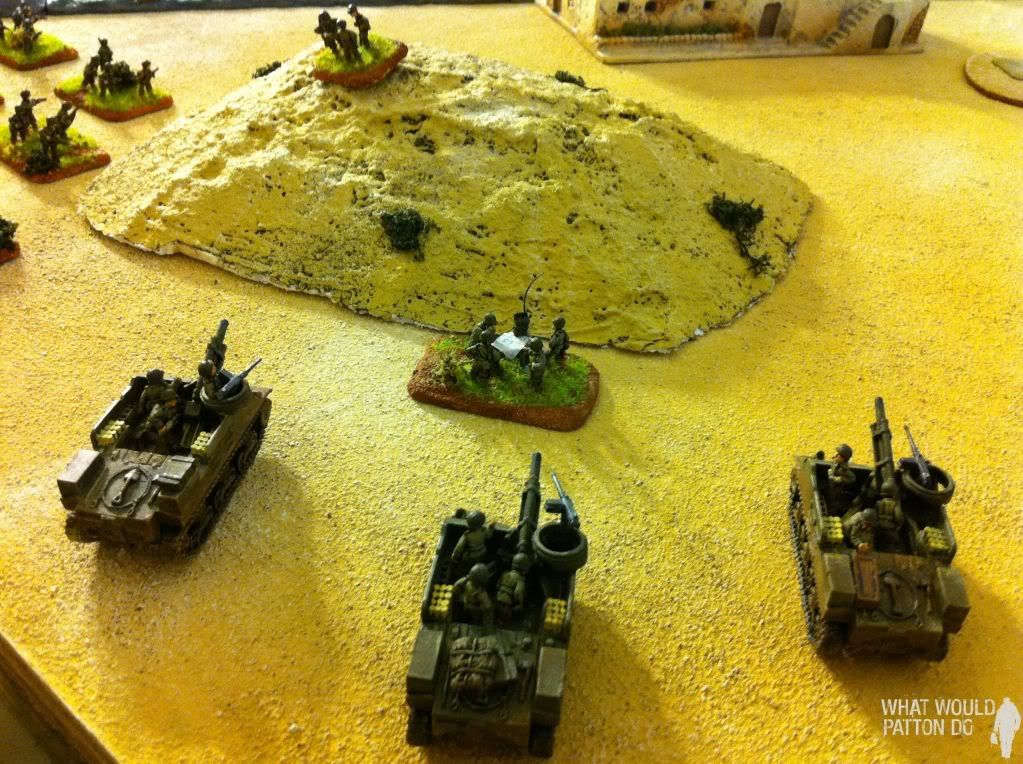 Priests
Shermans and Stuarts roll out.
Italian mortars open up on the US riflemen, pinning them down. In true Joe fashion they don't unpin for the rest of the game!



COMBAT CASUALTY SUMMARY


AMERICANS
none

ITALIANS
none
TURN TWO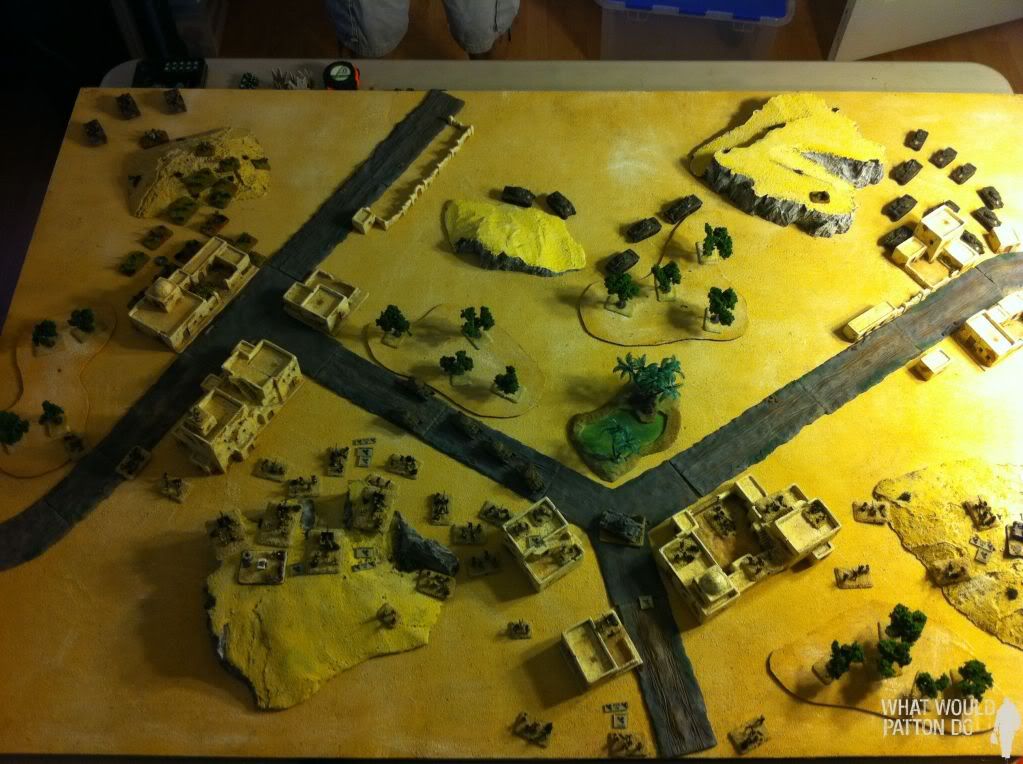 Shermans get ready to dig out Italian guns. I take this opportunity to remind Joe that the 75mm gun's 3+ firepower is just perfect for picking out those man-packed elefentinos, clearing the way for his Stuarts!
With no other targets, the 75s barrage the Shermans. It's a long shot, but again I am quick to remind Joe "You don't get paid for coming home with ammo!"
Whats this? The M14s push into the American positions. Twin Hull MG fire knocks down a US rifle stand as mortar fire rains down.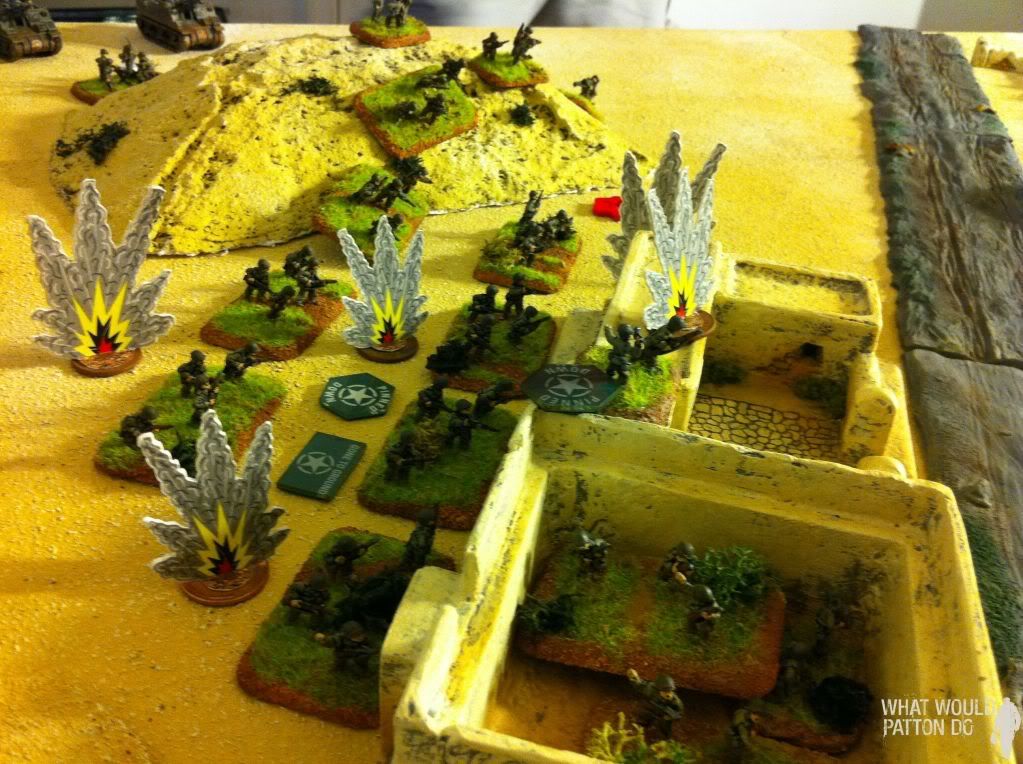 The mortar fire pins down the recon, but doesn't cause any additional harm.



COMBAT CASUALTY SUMMARY


AMERICANS
Rifle Platoon: 1 rifle stand

ITALIANS
none
TURN THREE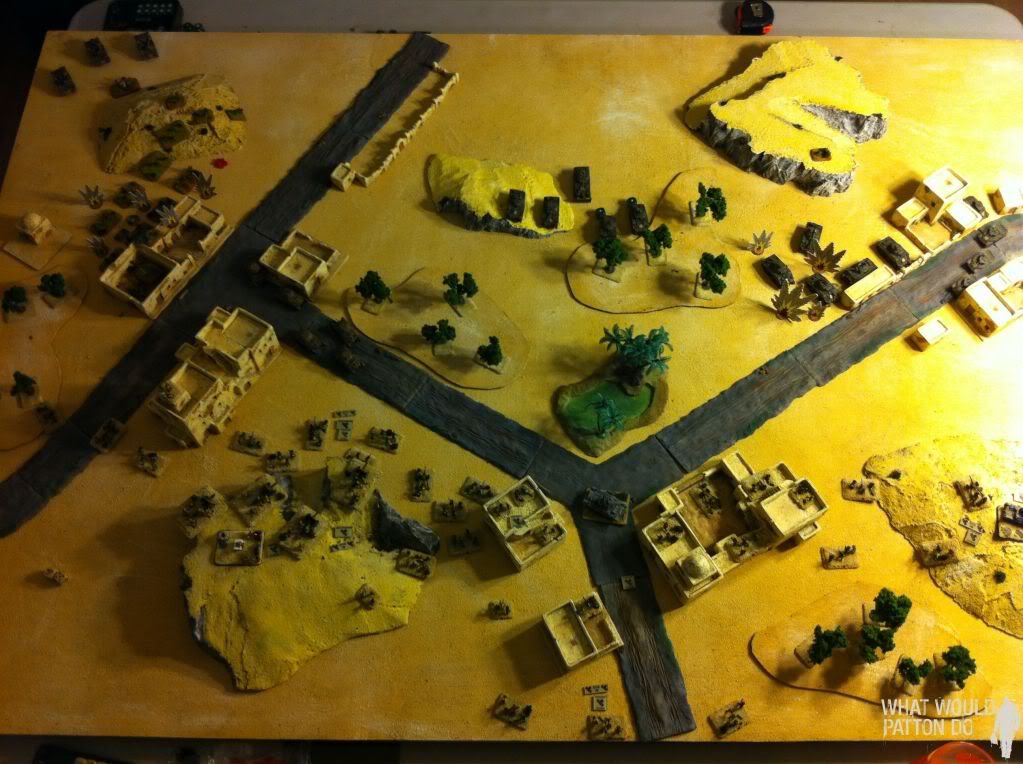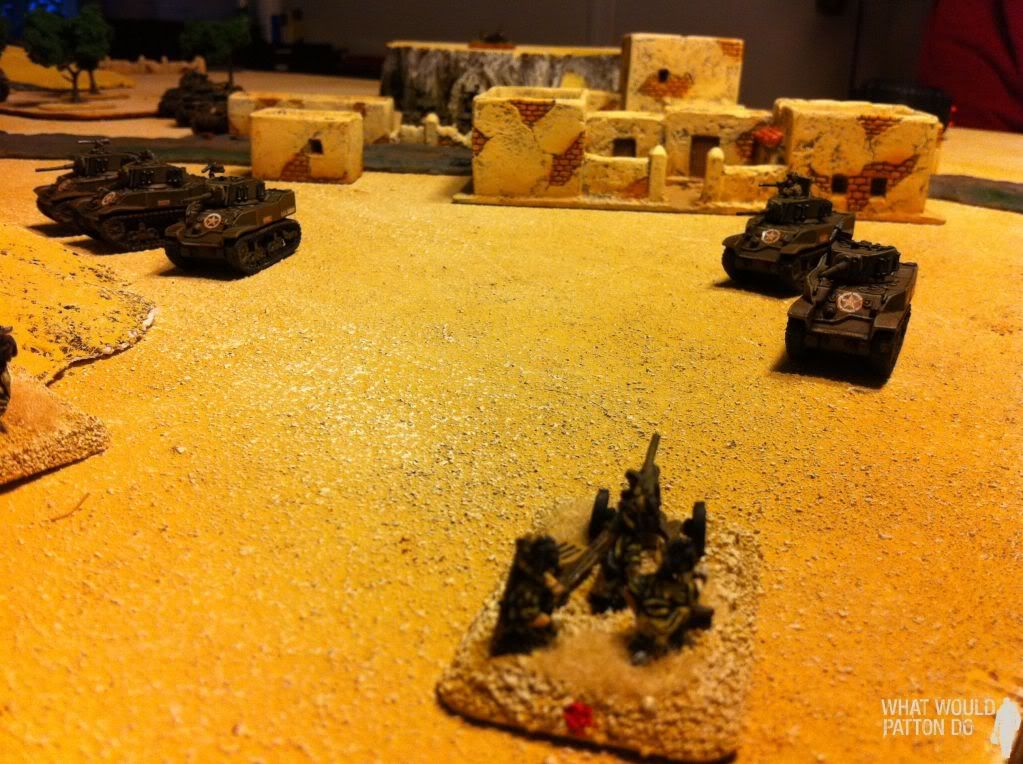 Stuarts are out for blood.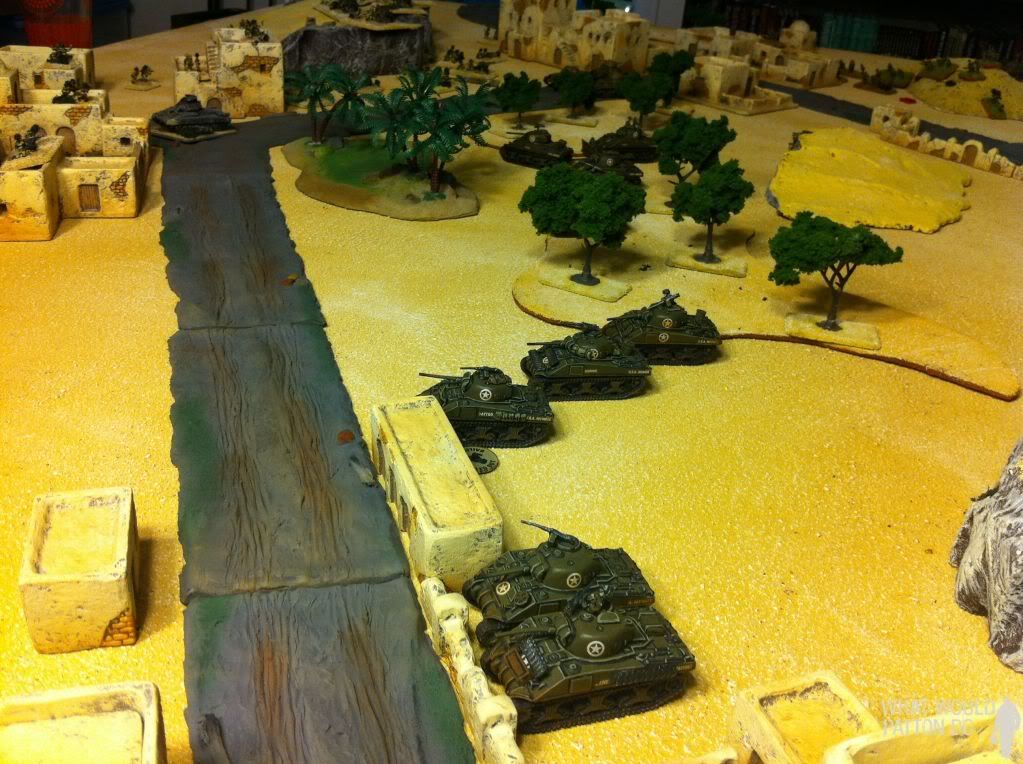 Shermans form a gun line.
1 elefentino and 2 HMGs go pop! The unit is pinned by MG fire. The Stuarts assault, with 1 knocked out in defensive fire. They are forced to retrat after one round of assault, knocking out another Rifle/MG stand.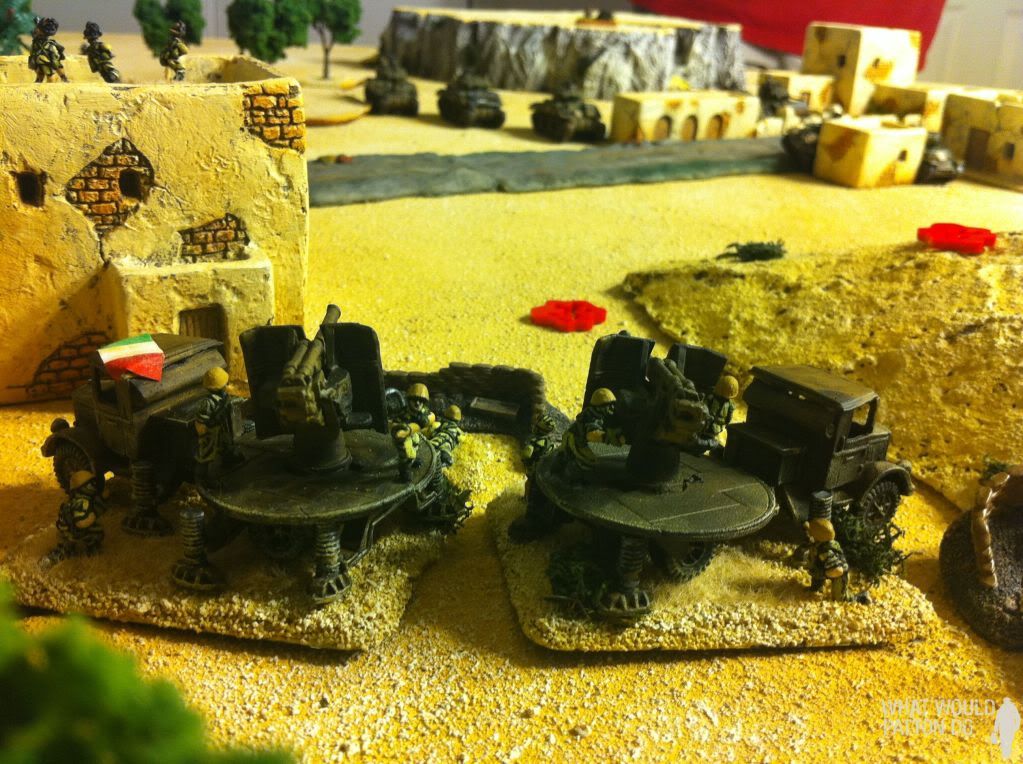 Finally the big guns come out!
A second Stuart goes down to elefentino fire!
Only a single Sherman is knocked out! Two more wind up bailed. The bad news is the one sherman knocked out is the company commander. D'oh!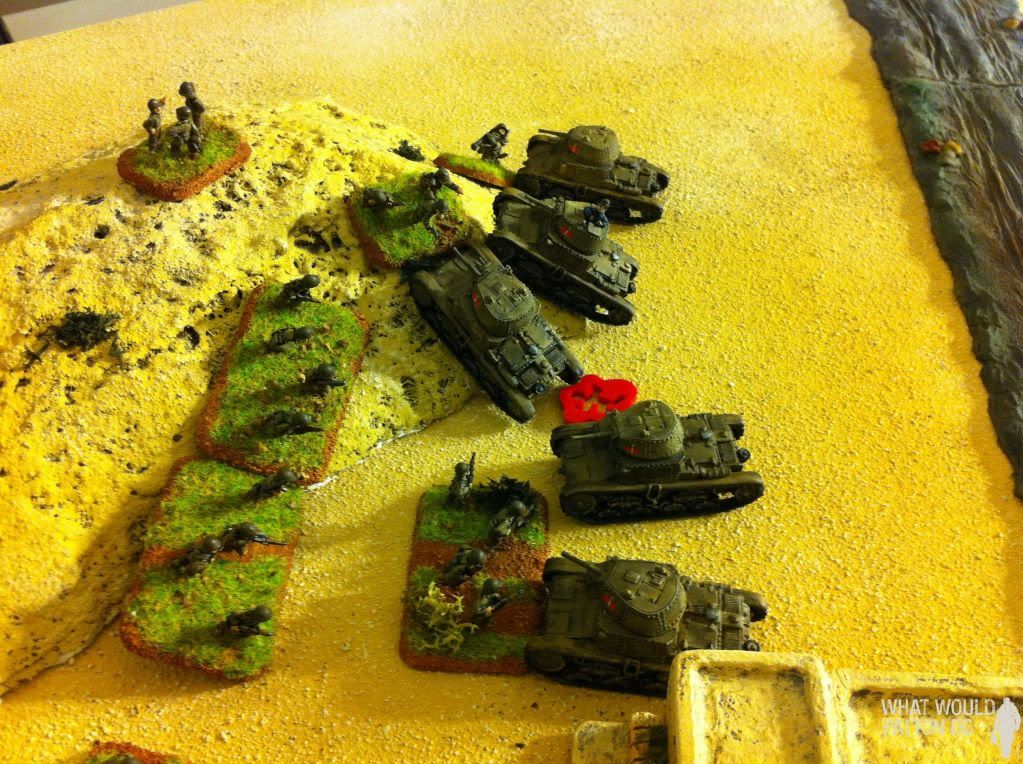 Meanwhile, the M14/41s have broken through the American lines and tenaciously assault the rifle platoon.
With the entire Rifle platoon being routed!



COMBAT CASUALTY SUMMARY


AMERICANS
Rifle Platoon: DESTROYED
Company Command Sherman: DESTROYED
Stuarts: 2 Stuarts destroyed

ITALIANS
Bersaglieri: 2 HMG, 1 Elefentino, 1 Rifle/MG stand
TURN FOUR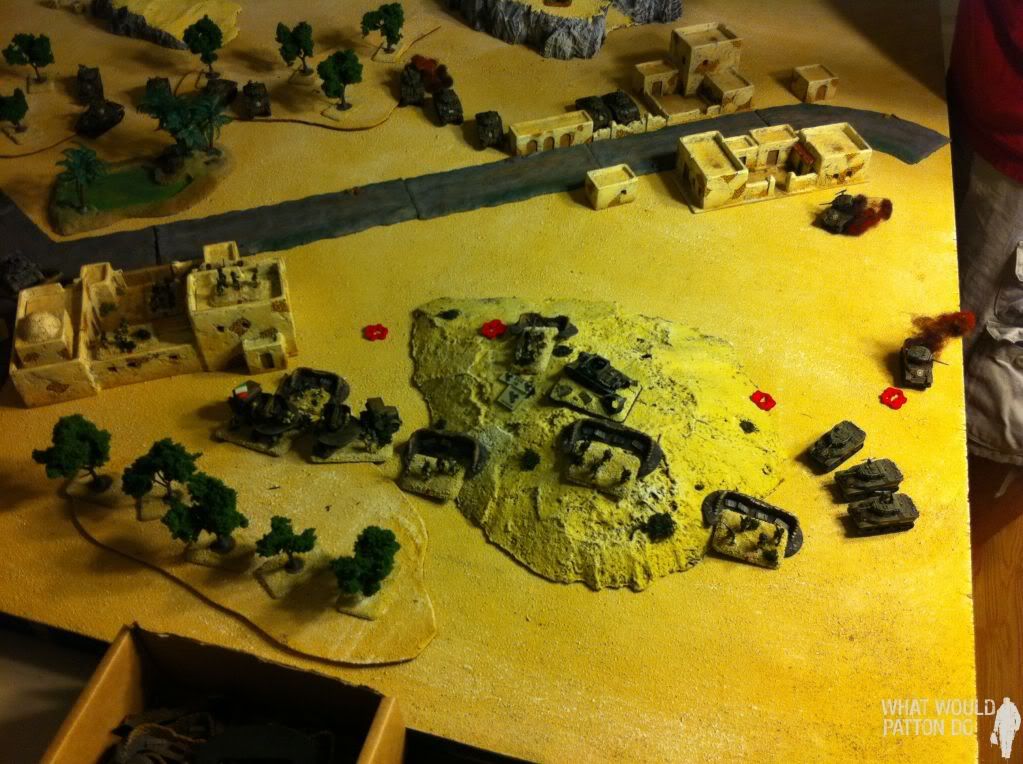 Joe stays on the Bersaglieri- hooking around with his 3 remaining Stuarts.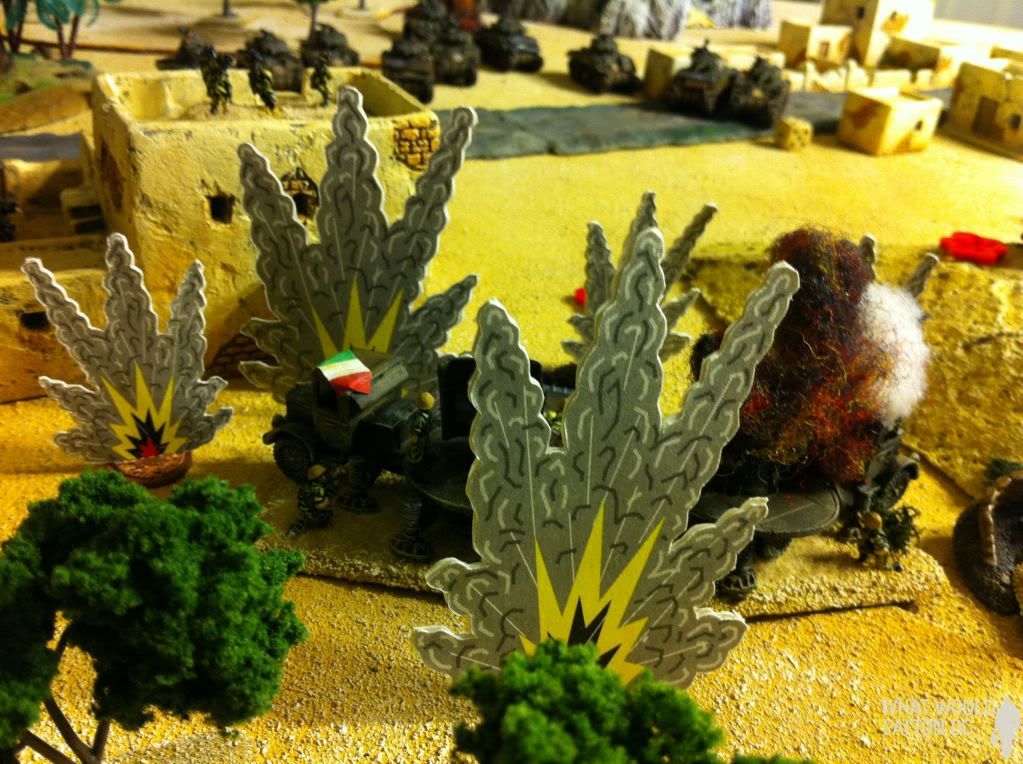 Priests score a time on target barrage on the Lancias, knocking one out! And would you look at the insane number of Shermans about to light them up?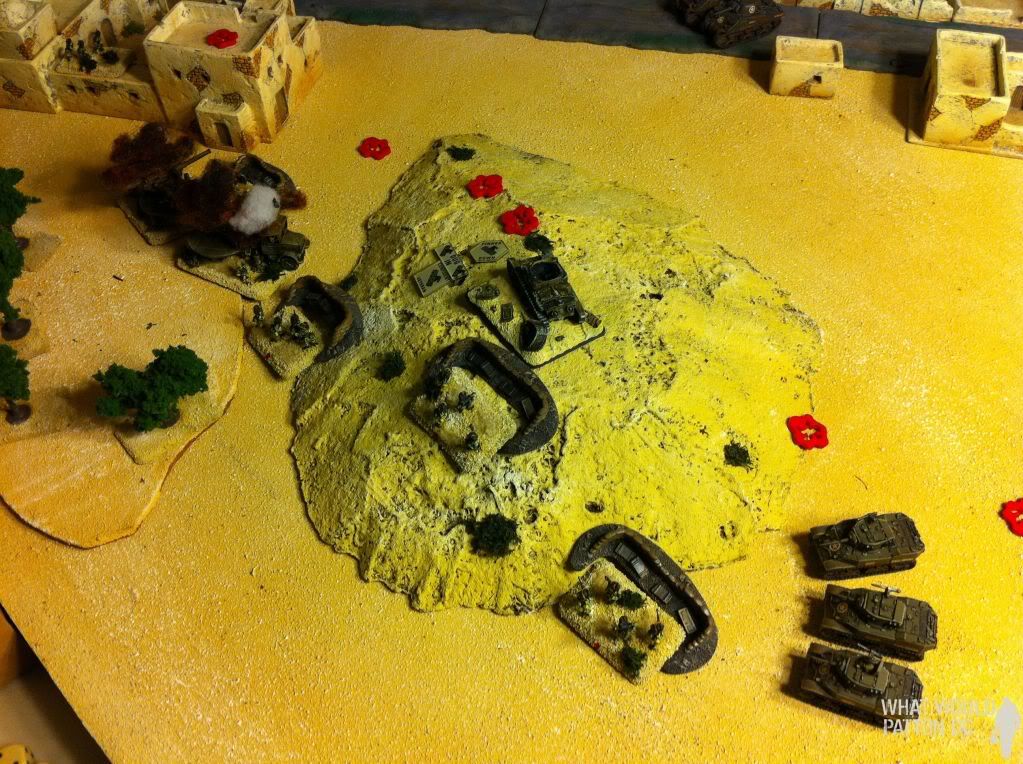 Sherman fire knocks out the Lancias, and takes a heavy toll on the Bersaglieri (lesson 3: the order in which you shoot DOES matter. Joe's 2iC shot separately at the Lancias, and knocked the last one out. Economy of force! Had he attached him to a sherman platoon all of those extra shots would be wasted. Instead, they lit up the Bersaglieri.
In fact, Joe won the game right here. The Bersaglieri were below half strength and broke. With no mobile assets in that area, Joe's Stuarts will hold the objective. There is no possibility of any Italian forces reaching it to contest.
BUT the Italians can still go for that 3rd victory point!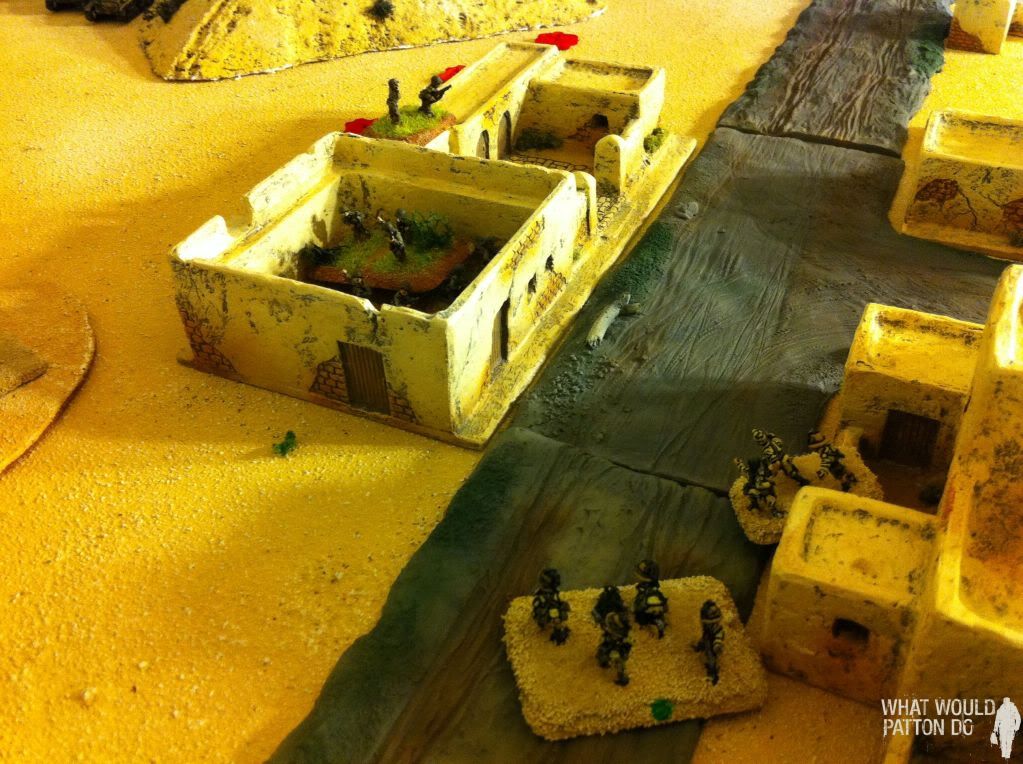 The Bersaglieri on the left attempt to assault Joe's recon!
But they're sneaky and disengage!
So the M/14s charge the priest battery, and utterly annhilate every single team. This makes it a 4-3.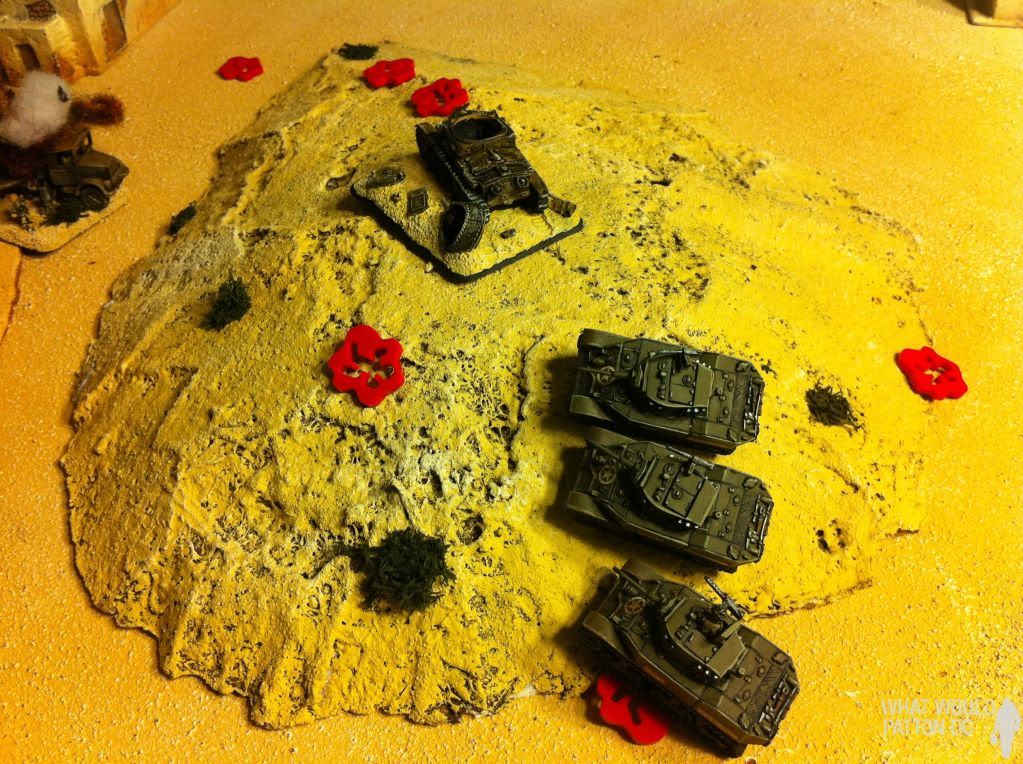 The victorious Stuarts!



FINAL COMBAT CASUALTY SUMMARY


AMERICANS
Rifle Platoon: DESTROYED
Priest Battery: DESTROYED
Company Command Sherman: DESTROYED
Stuarts: 2 Stuarts destroyed

ITALIANS
Lancias: DESTROYED
Bersaglieri (right): DESTROYED