A big chunk of the WWPD guys (Me, Jon, Luke, and Sean) rolled up to Fredericksburg on Saturday for a Normandy themed tournament. We had a blast, and did well! Here is a very brief AAR.
The scoring wasn't standard victory points, but worked out as follows:
If you won, every domination point held is worth 200 points.
If it was a draw, domination points were worth 150 points.
If you lost, domination points were worth 100 points.
Then, you earned the value for every platoon of the enemy's you destroyed, and half the value for every enemy platoon you forced into a check. Then you subtracted the points you lost in a similar fashion (minimum of 0).
In this way there was a much broader point spectrum, and it was such that a platoon of Tigers was worth a lot more than a platoon of scouts. The math wasn't terribly difficult to do, and in my opinion it added a lot to the game.

STEVEN'S PANZER LEHR PANZERKOMPANIE (CV)


HQ (2x Panzer IV H + Bergepanther)

4x Panzer IV H

4x Panzer IV H

3x Panzer IV H

2x Flakpanzer 38(t)

Panzer Lehr Panzergrenadiers

3 Tubes of 21cm Nebelwerfers



SEAN'S TYNE & TEES (CV)


HQ + Carrier + Stan Holliss

Full strength Rifle Platoon

Full Strength Rifle Platoon

One Platoon Commando Company (FV)

3x Crocodiles (CT)

Armoured Platoon (Cromwells + Firefly) (RV)

25 Pounder Battery + AOP

Priority Typhoons



JON'S TYNE AND TEES (CV)


HQ

Full Strength Rifle Platoon

Full Strength Rifle Platoon

Pioneer Platoon w/ flamethrower

Carrier Patrol

Crocodiles (CT)

4x M10C (CT)

2 Full Priest Batteries (CV)



LUKE'S LIGHT TANK COMPANY (3rd Armored) (CT)


HQ (2x Stuarts)

5x M5 Stuarts

5x M5 Stuarts

5x M5 Stuarts

4x M4 Shermans

Full M10 Tank Destroyer Platoon

Full Armored Rifle Platoon

Armored Mortar Battery

Recon Platoon (not full strength I don't think?)

>>>>> Click here to read the rest of the article!
GAME ONE: BLITZKRIEG DOMINATION
Game One was a modified Blitzkrieg Domination with the allies on the attack.
STEVEN'S GAME ONE VS ALLEN's CANADIAN RIFLE COMPANY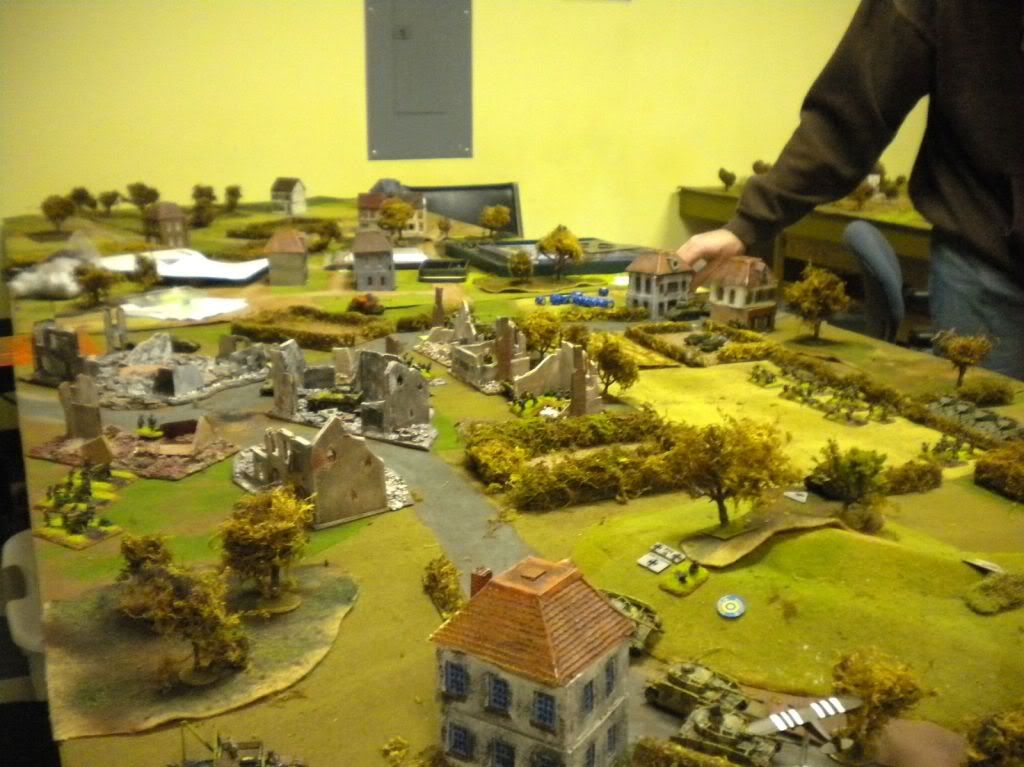 Allen was relatively new, but came at me strong. Finally, my Panzer IVs reached critical mass in his backfield and knocked out a priest battery, a mortar battery, and a rifle platoon. In the center my Panzer Lehr held on tight before charging out and breaking a rifle platoon. They then charged forward and wiped out a Wasp Patrol. Another unit of Panzer IVs and the company commander lost a handful of tanks, but in the end prevailed in a shootout with his armor. The game ended with Allen's company breaking. I got around 2150 points.
SEAN'S GAME ONE VS PETE's GRENADIERS(?)
Pete deployed his artillery very cleverly, and gave Sean's force a bloody nose on the way in. The game ended in a draw. I'm not sure how many points Sean had, maybe around 500?
JON'S GAME ONE VS WILL'S FALLSCHIRMJAEGER(?)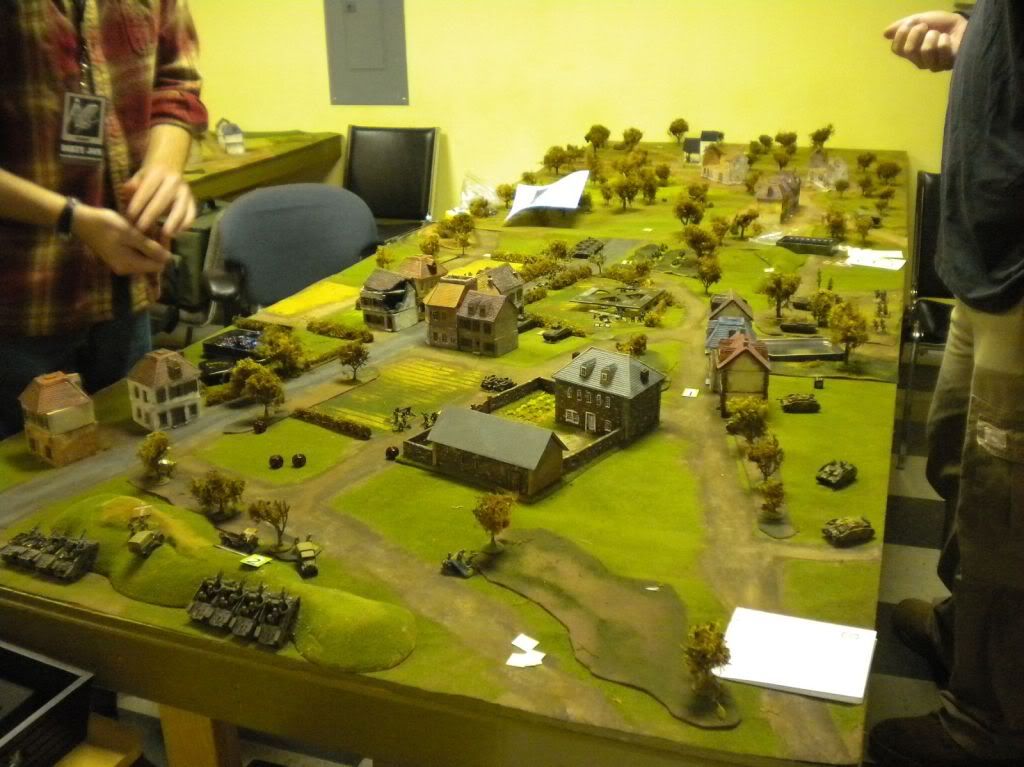 Jon struck hard and fast, and broke Will's company. Not sure of the full details, but I saw a mess of stuff slamming into Will's lines. Jon came out of it with 1900 points.
LUKE'S GAME ONE VS JOHN'S PANZER LEHR PANZERGRENADIERS
John is a very skilled player and all around good guy (original gangsta). He knew his infantry would be gunned down in the face of all those Stuarts. He kept withdrawing, keeping units alive. The game ended in a draw for the two of them. Luke ended with 750 points.
GAME TWO: BLITZKRIEG DOMINATION
This mission was by far my favorite of the tournament- it was simply awesome! It was a basic Domination game (8/12 points needed to win, objectives go hot on turn 6). No double timing until turn 6. But you must write out what platoons arrive where, and when. On turn 1 all your recon/forward observers can come on. On turn 2, 2 platoons + 1 independent team, and on turn 3 the rest come on. You have to draw which 12" section of your long edge they arrive from. It was great fun!
STEVEN'S GAME TWO VS BILL's US ARMORED RIFLE COMPANY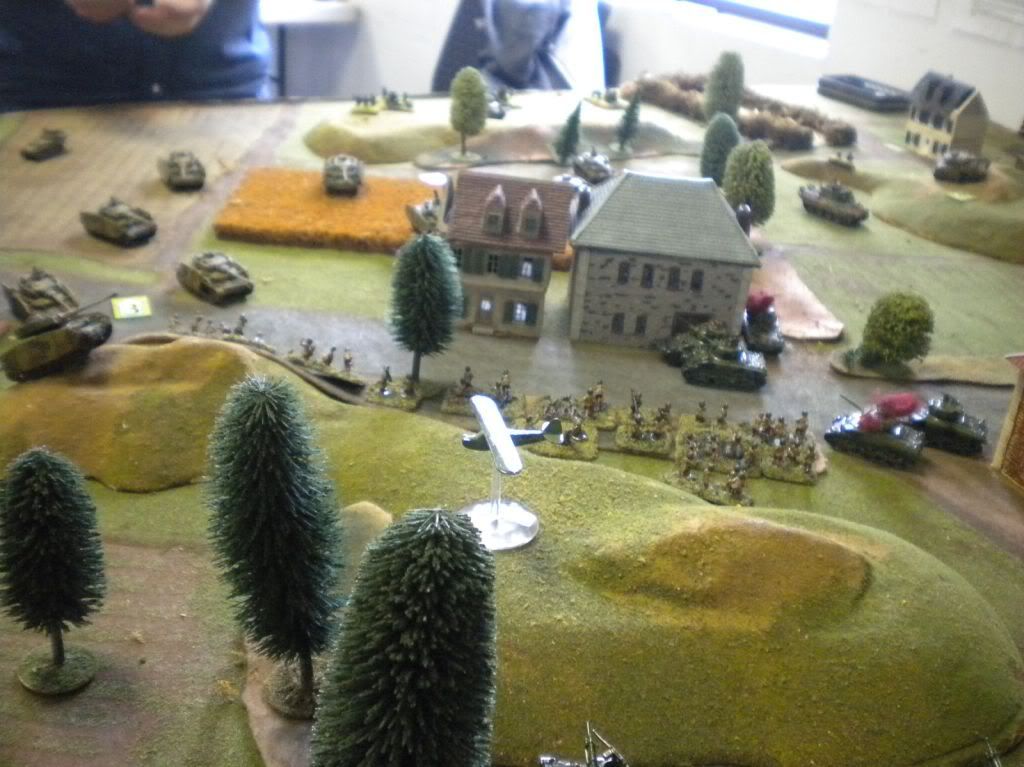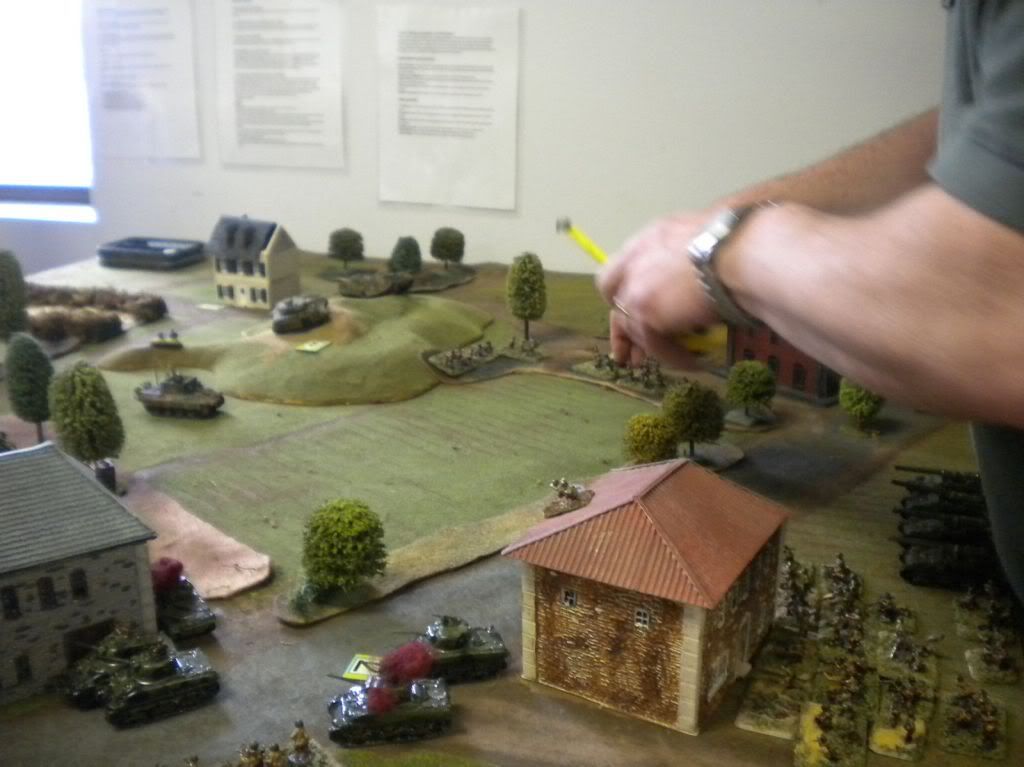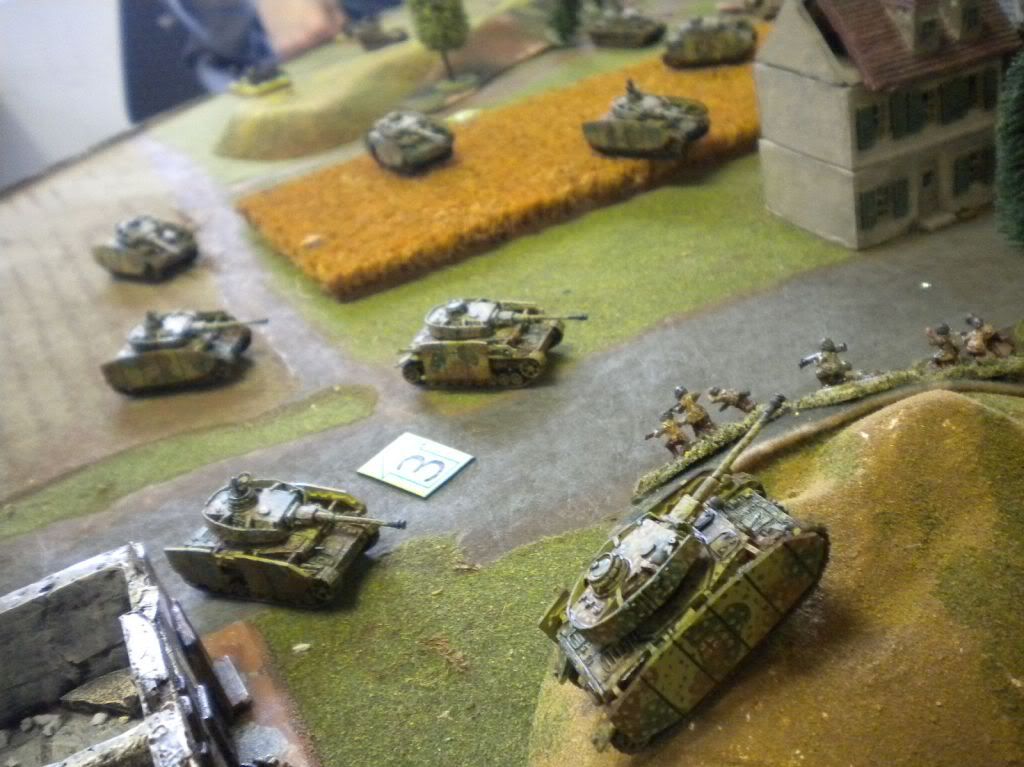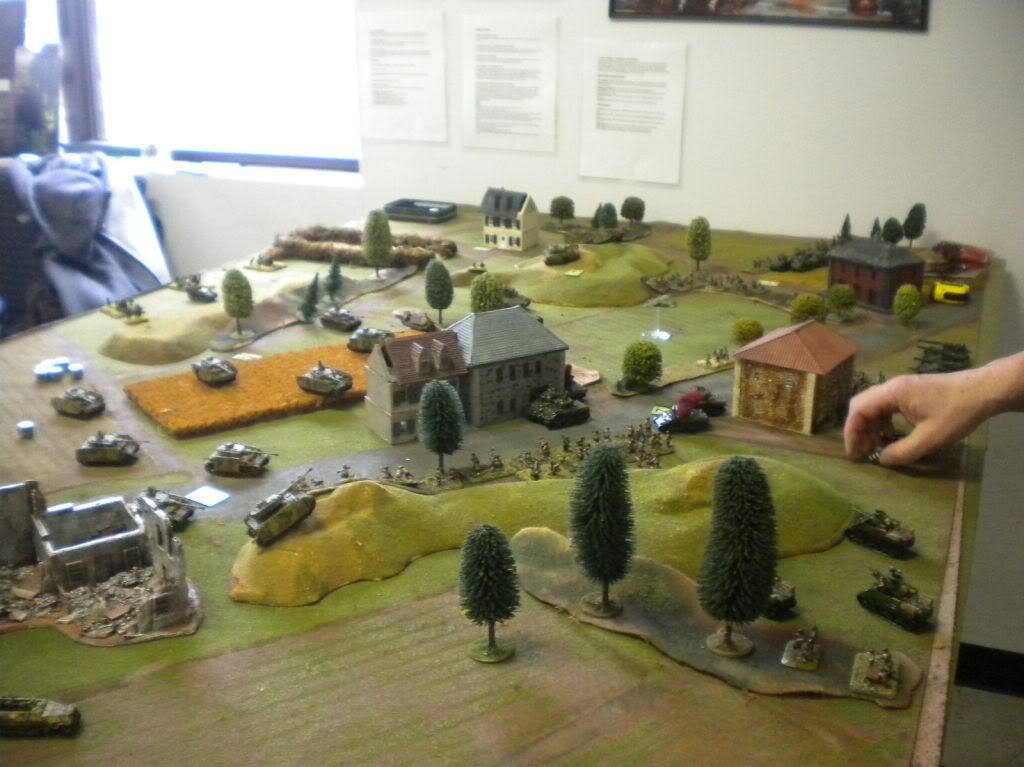 Bill ran a trained armored rifle company with 3 platoons, Priests, 155s, Shermans, and Stuarts. Straight away my Panzer IVs got in a duel with his Shermans, and knocked them out. My panzergrenadiers snuck all the way up his left flank, and got into his backfield where they assaulted and destroyed his priests. In the left and center, my Panzers chewed up two of his armored rifle platoons, and put to rest a valiant charge by the Stuarts. His company broke on the next round, earning me another 2200 points.
SEAN'S GAME TWO VS MATT'S SS AUFKLARUNGSCHWADRON(or PANZERSPAH?)
First of all, Matt is one of the coolest guys I've played against. We need to have him down to Richmond soon- he "clicks" with the gang and is one of the best sports in the hobby. Anyhow, he and Sean duked it out mightily in the center. Sean's Crocs and infantry worked together to take down Matt's Jagdpanthers. On Sean's right, 2 infantry units and Stan Holliss rolled up Matt's flank, knocking out recon units. In the beginning of the game, a flight of Typhoons eviscerated an Aufklarungschwadron unit- I saw that happen, it was brutal!
Sean won this one, but I am unsure of the points.
JON'S GAME TWO VS PETE'S GRENADIERS(?)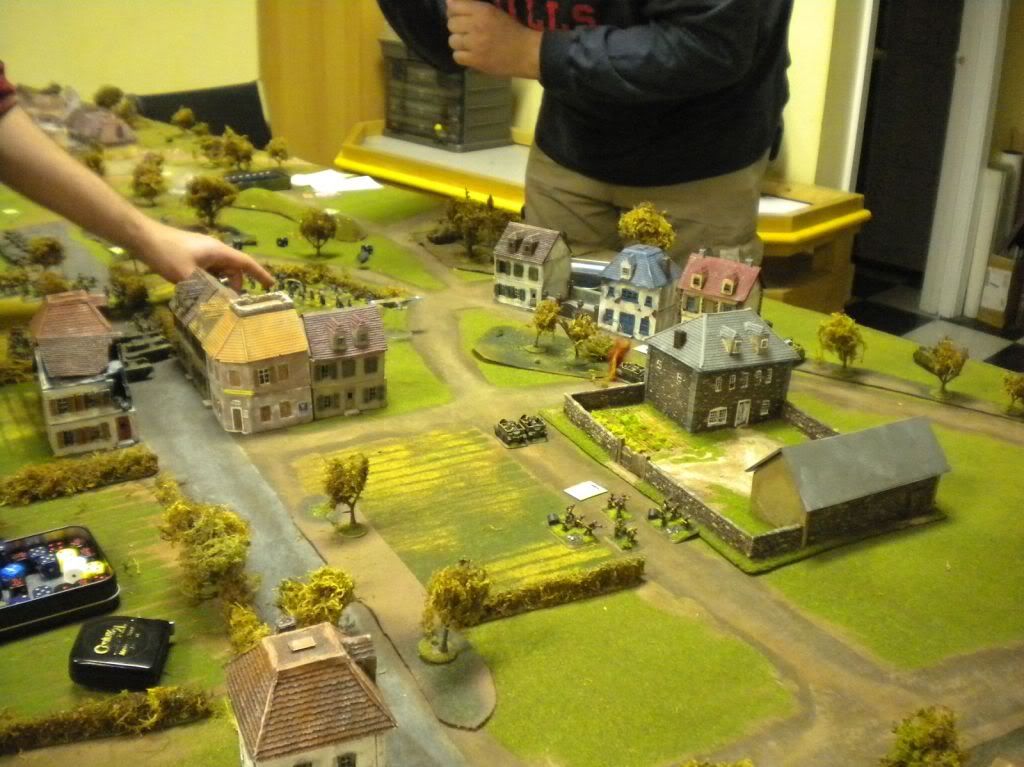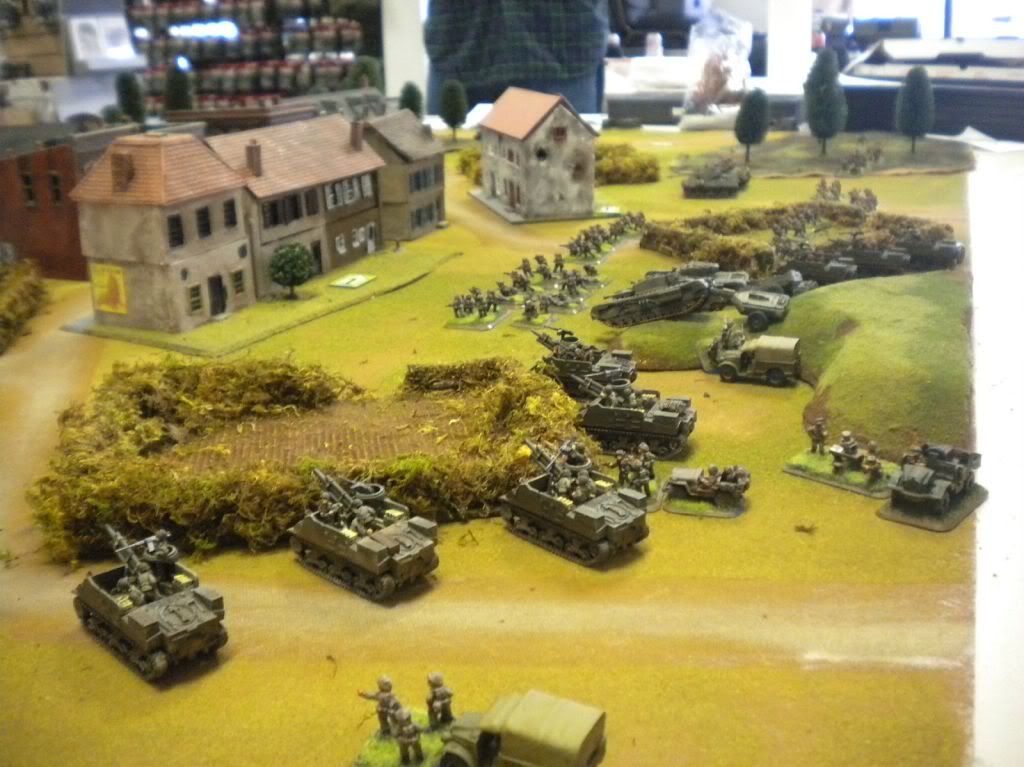 Jon went up against Pete in the following round, and avenged Sean's draw! I didn't see much of this battle- all I saw was when Jon had crocs in the center of town. What I do know is Jon won it with something like 2400 points! This put Jon in 1st place and me in 2nd place going into round 3...
LUKE'S GAME TWO VS WILL'S FALLSCHIRMJAEGER(?))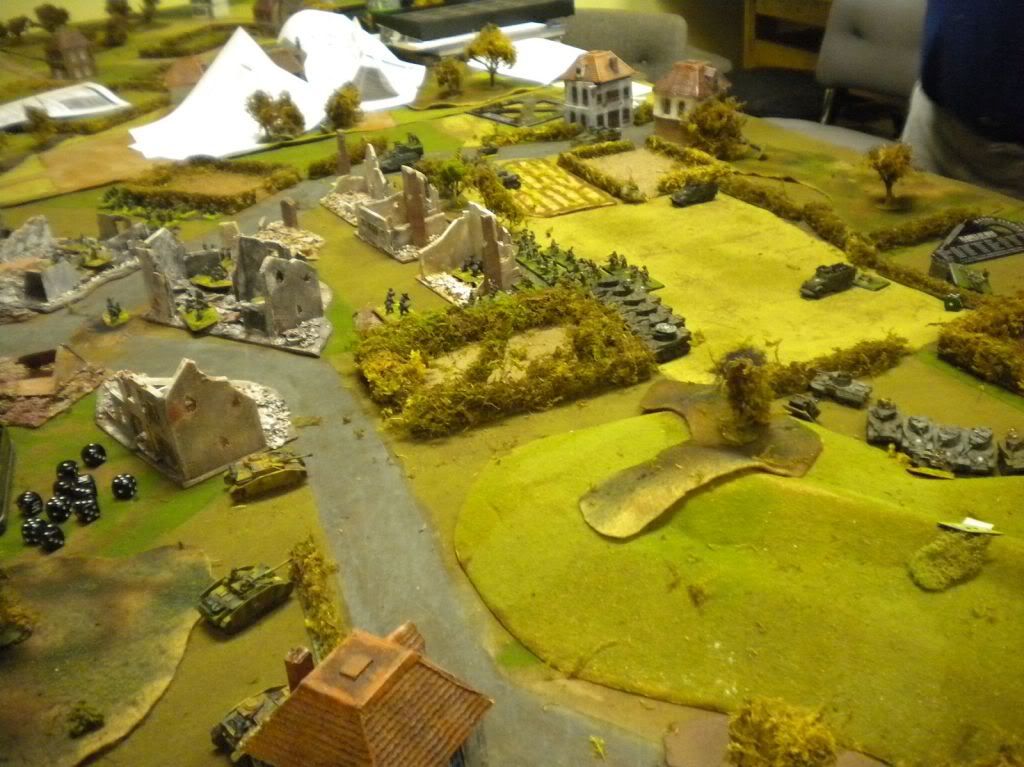 Again, I didn't see any of this game, but I think Luke won due to breaking Will's company. Luke came out with 2275 points, putting him in 3rd place going into round 3!
All in all a very succesful round 2 for the WWPD Guys!
GAME THREE: DOMINATION
Round Three was vanilla Domination. Luke faced Eric Turner (another Richmond guy), and Jon and I had the final showdown for the tournament.
SEAN'S GAME THREE VS ????'s Panzer Lehr Panzergrenadierkompanie
Honestly, even though Sean was right next to me, my game with Jon was so intense, I have no idea who he played or how it went except that Sean pulled out the victory. Sean went on to 4th place overall.
LUKE'S GAME THREE VS ERIC TURNER'S 2nd SS PANZERGRENADIERS
Again, I have absolutely no idea how this game went, except that Luke won it solidly with 2600 points. Turner went on to get 5th or 6th, and Luke placed 3rd.
STEVEN AND JON DUKE IT OUT FOR THE WIN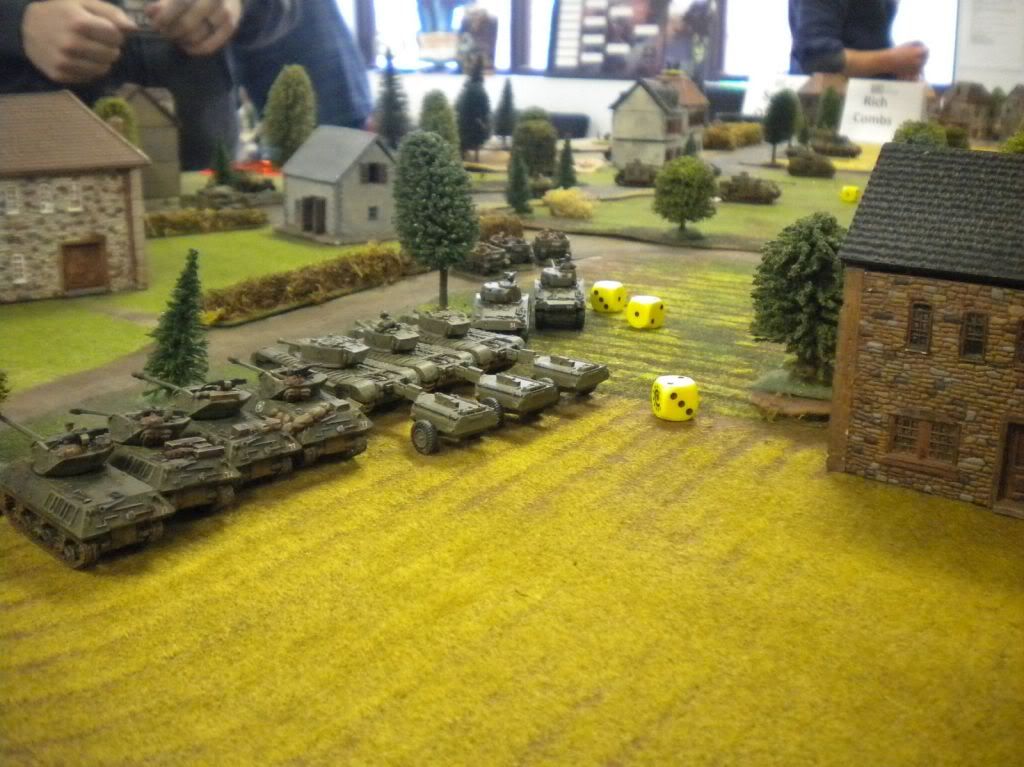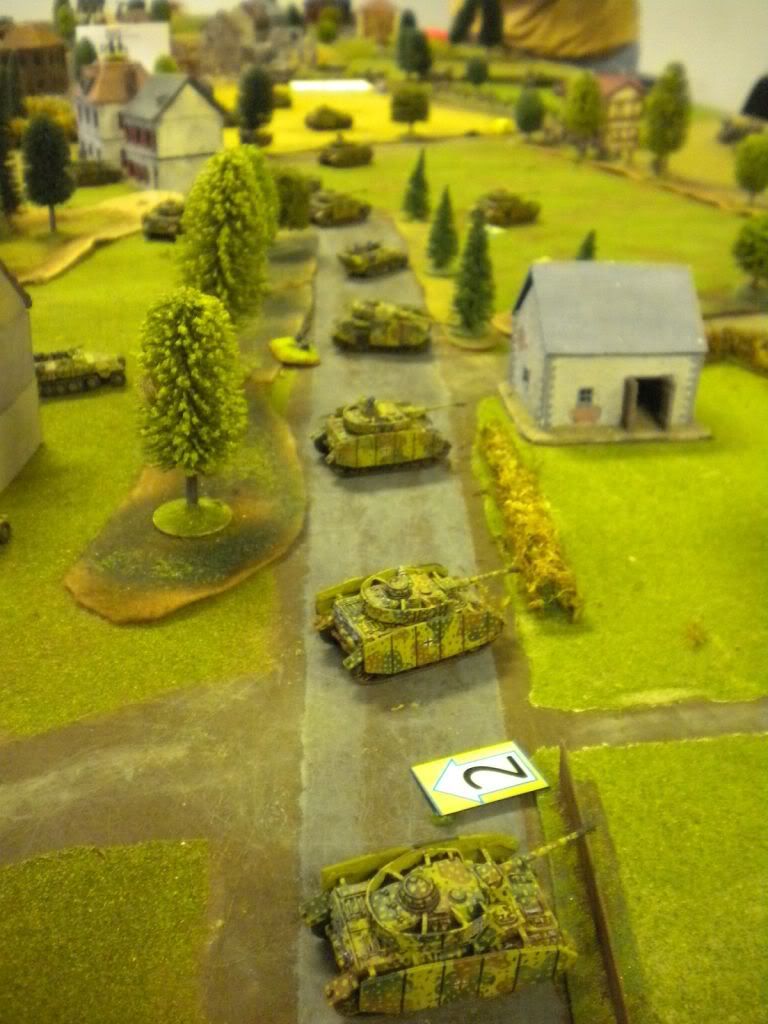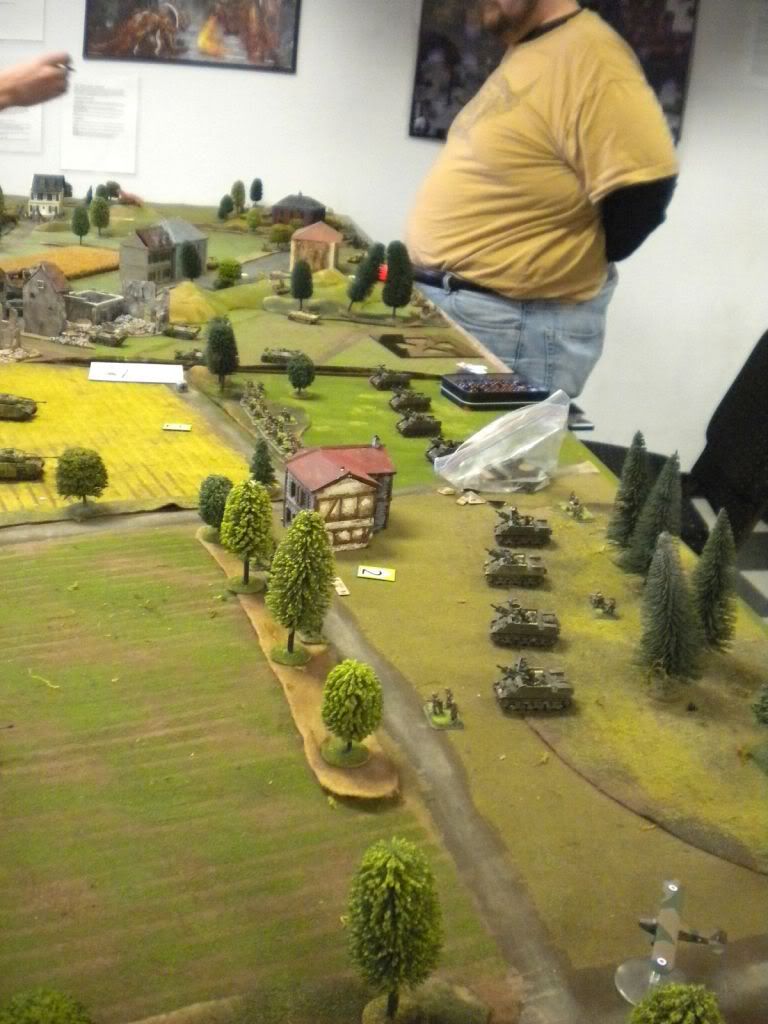 This was honestly one of the most intense games I've played. Jon's sportsmanship (for as badass as he tries to come across) is second to none. I will say that both of us were absolutely all in. This game would NOT be a draw.
The battle started out with me pushing my left flank with 2 platoons of Panzer IVs, and Jon pushing my right flank with crocs, M10s, and rifles. His Priests were raining stonky death! On the left flank, I ran a rifle platoon before Panzer IVs pushed through the woods to shoot up his priests. I ran one priest battery, but return fire from the 2nd battery likewise ran that platoon of tanks. Another platoon of tanks (with the attached bergepanther) were knocked below half, and withdrew to play it safe, but not before running Jon's Pioneers. On the right, his M10s, crocs, and priests conspired to knock a tank platoon to half. My panzergrenadiers were able to isolate his rifles and knock them out.
At this point I was down 1 platoon, but 2 platoons were battered- I had 3 panzer IVs left and my panzergrenadiers. Jon was down 2 rifle platoons, a priest battery, and his engineers. Time was running short. Jon made an aggressive move and assaulted my panzergrenadiers with his scout carriers- bogging 2 of the 3 on the way in! After some back and forth and a turn or two later, my Panzer IVs chased down his company command and shot him up, and my panzergrenadiers assaulted and knocked out his scouts.
Phenomenally bloody battle- Jon was probably one turn away from winning by objective points! My company was battered, but only one fully broken platoon. I have no idea how the points worked out, all I know is this put me in 1st place and Jon in second.
So, the WWPD guys swept the tourney! 18 players, and we had 1, 2, 3, and 4!
All in all, though people may be tired of us saying it, The I-95 guys run the best tourneys around. They're all solid guys, with excellent terrain! I credit them with my love of tournament play, and they are the standard by which all tournaments are measured. Special thanks to those guys for doing what they do!
Congrats WWPD fellows, and thank you to all of our opponents! Listen to episode 17 for a full run down of our games!