Thursday, March 31, 2011
Pete just finished up some Panthers, and they look great!
Read More
Tuesday, March 29, 2011
Tom and I got a game in tonight, allowing me to get my Panzer IIs on the board having just recently completed them!
Tom was also anxious to try out the French, and went with an Escadron De Combat loading up on SOMUAs. I knew it'd be a hard fight my boys were in for!
The Mission was
Domination
.

GERMAN MITTLERE PANZERKOMPANIE


HQ (1 Panzerbef. + 2 Panzer II C (late))

5x Panzer II C (late)

5x Panzer II C (late)



5x Panzer II C (late)




4x Panzer IVd




Priority Stukas






FRENCH ESCADRON DE COMBAT


HQ Hotchkiss H-39 (long)

4x SOMUA S-35

4x SOMUA S-35

4x SOMUA S-35

3x Hotchkiss H-39 (1 long)

4x Panhard AMD-35

All Terrain Towed 105 Battery

DEPLOYMENT
The points are denoted by poker chips. White for 1 point, red for 2, and blue for 3. The only blue point is the entrance to the church. We used "pinned down" markers from our token sets to denote ownership since there wasn't any infantry on the board! I attached the HQ additional Panzer II to the platoon on the left, and sent the HQ and 2iC that way as well. The Panzer IVs are just to their right near the church. The remaining 10 Panzer IIs are on my right flank ready to roll out. Tom had a pretty even spread of his 4 SOMUA platoons across the front. His Panhards started on the road to the North of the Church, and his Hotchkiss just a bit to the left of them. His 105 battery was deployed behind the small hill.
Panzer IIs ready to move out.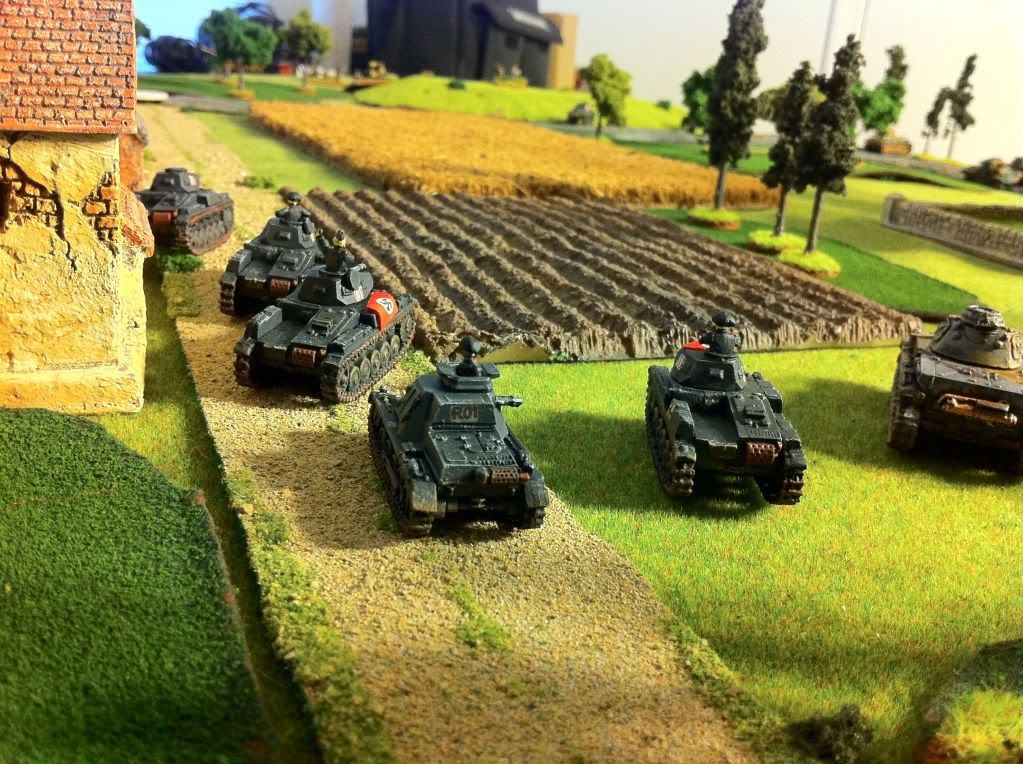 More Panzer IIs along with the Company Commander and 2iC.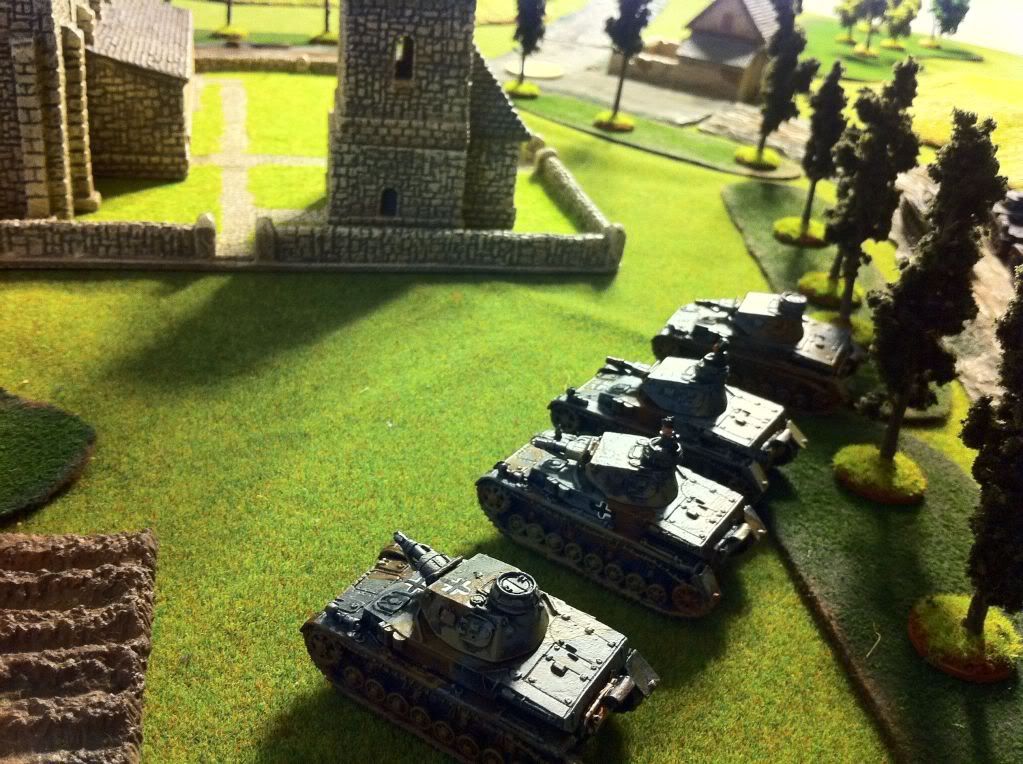 Tom loaned me his Panzer IVs for this game since mine aren't done yet.
More Panzer IIs.
Ditto!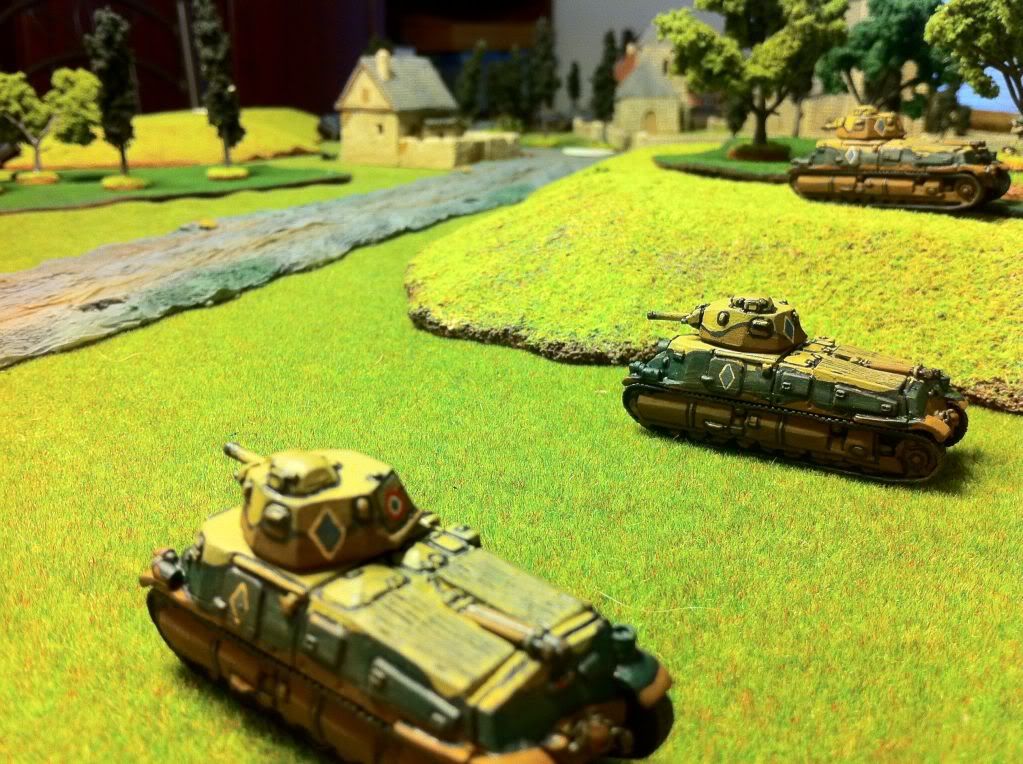 Tom used my French armor to give it a shot. SOMUAs are basically impenetrable to Panzer IIs.
Overlooking the crossroads.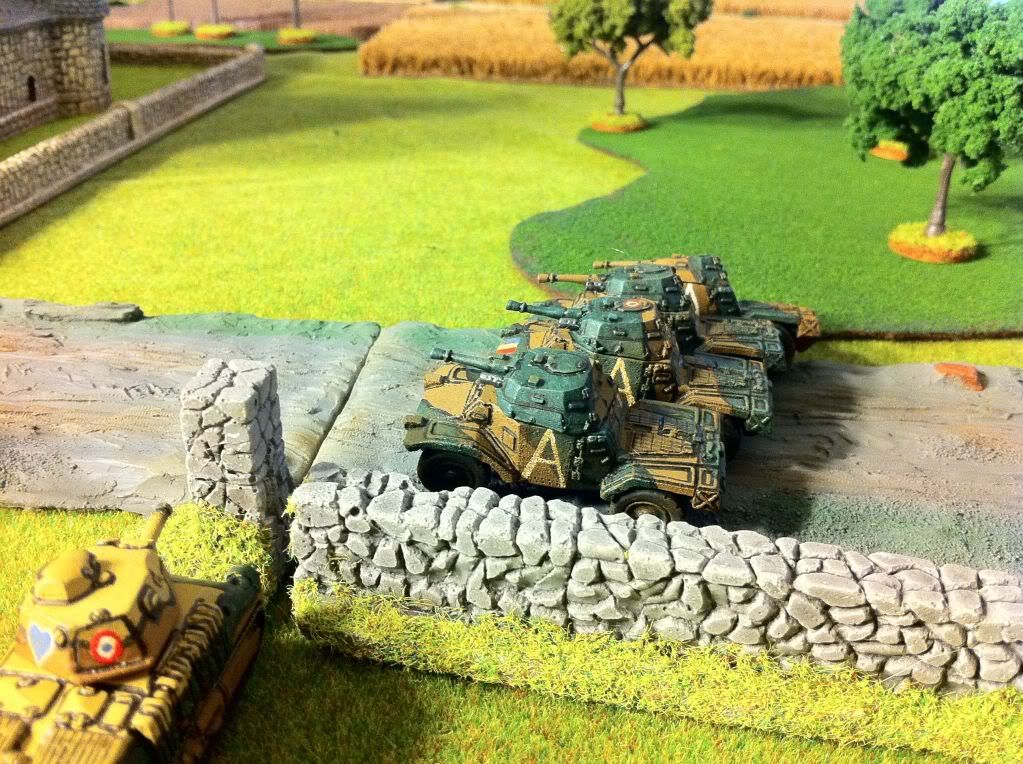 Panhards hubcap to hubcap.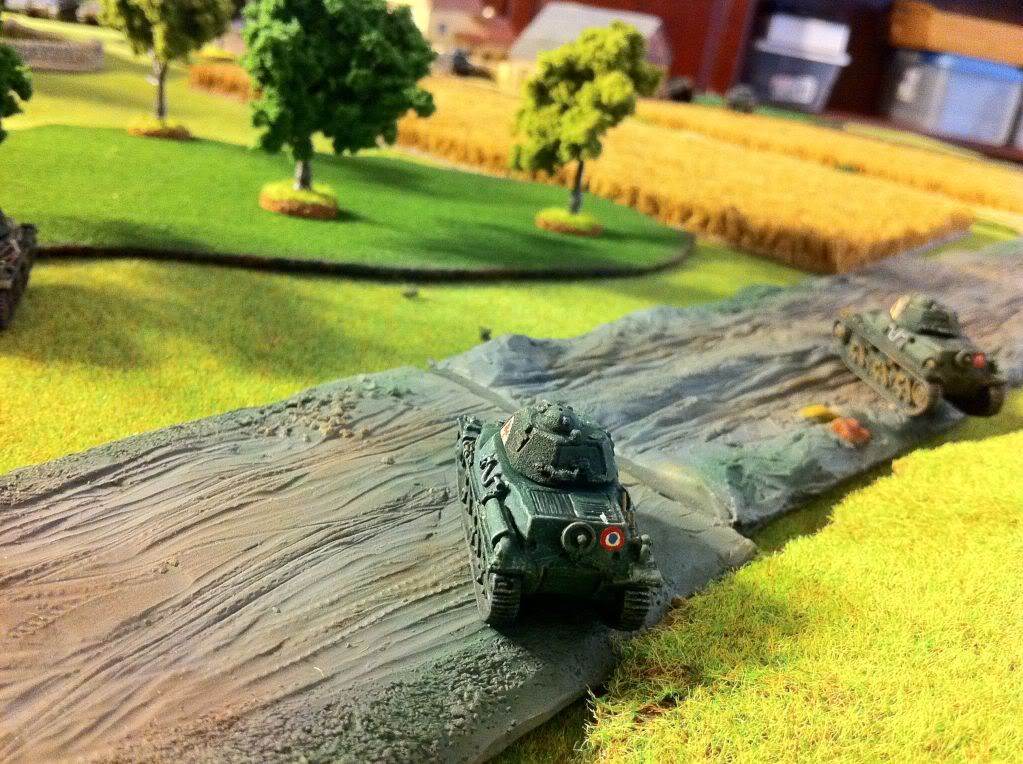 H39s.
105s.
The Battery.
TURN ONE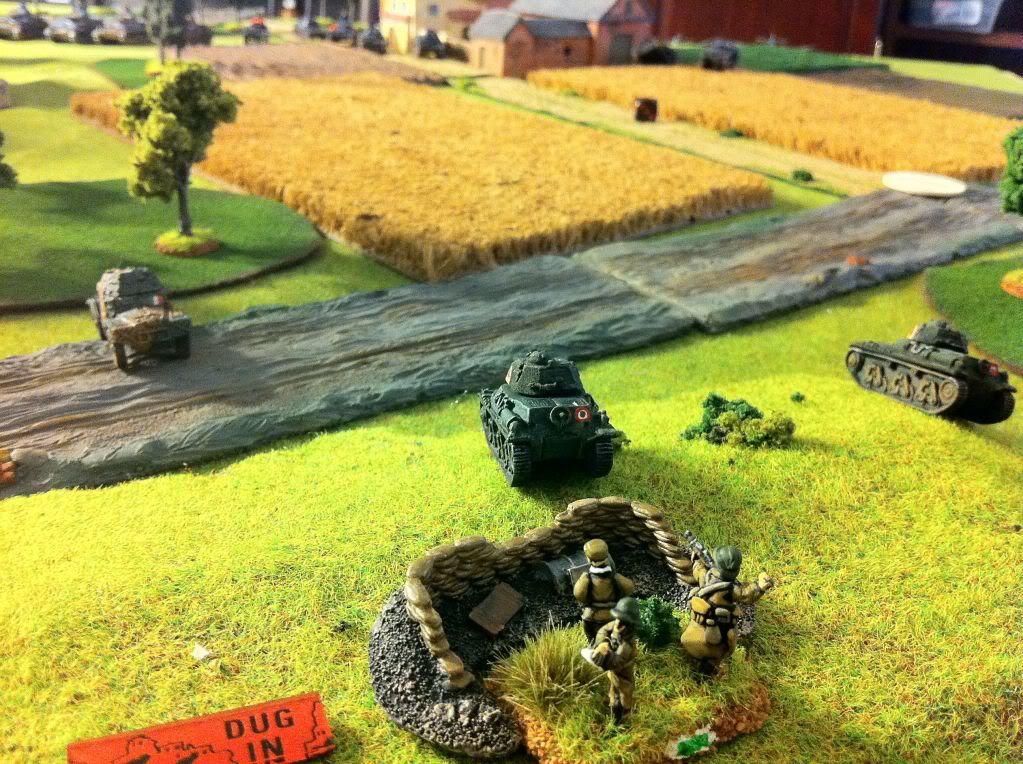 H39s and Panhards spread out.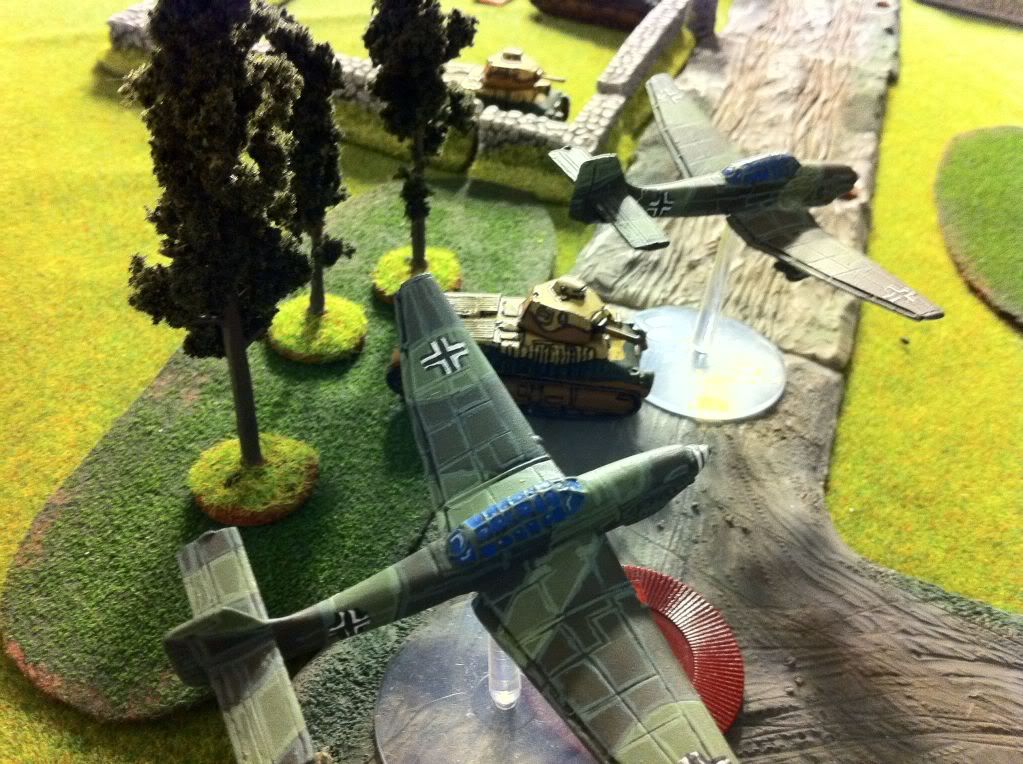 Stukas (also provided by Tom) swoop in, but can't range in.
Panzer IIs surge forward, and knock out the Hotchkiss platoon leader!
Panzer IVs move up and claim hull down from the churchyard wall.
The platoon on the road fan out to avoid fire from the SOMUAs.
On the German right, Panzer IIs move into a wood- a mass of SOMUAs await them on the other side.
COMBAT CASUALTY SUMMARY


FRENCH
1 Hotchkiss H-39


GERMANS
none

TURN TWO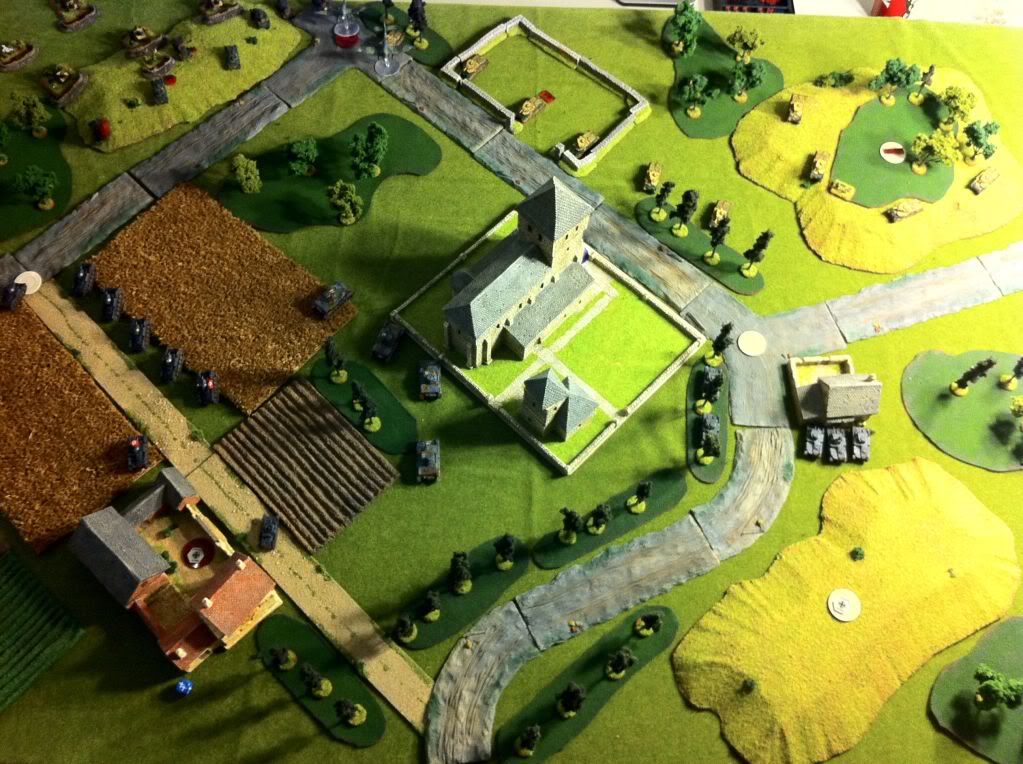 The 2 short barrel H-39s return fire on the Panzer IIs, and manage to knock one out!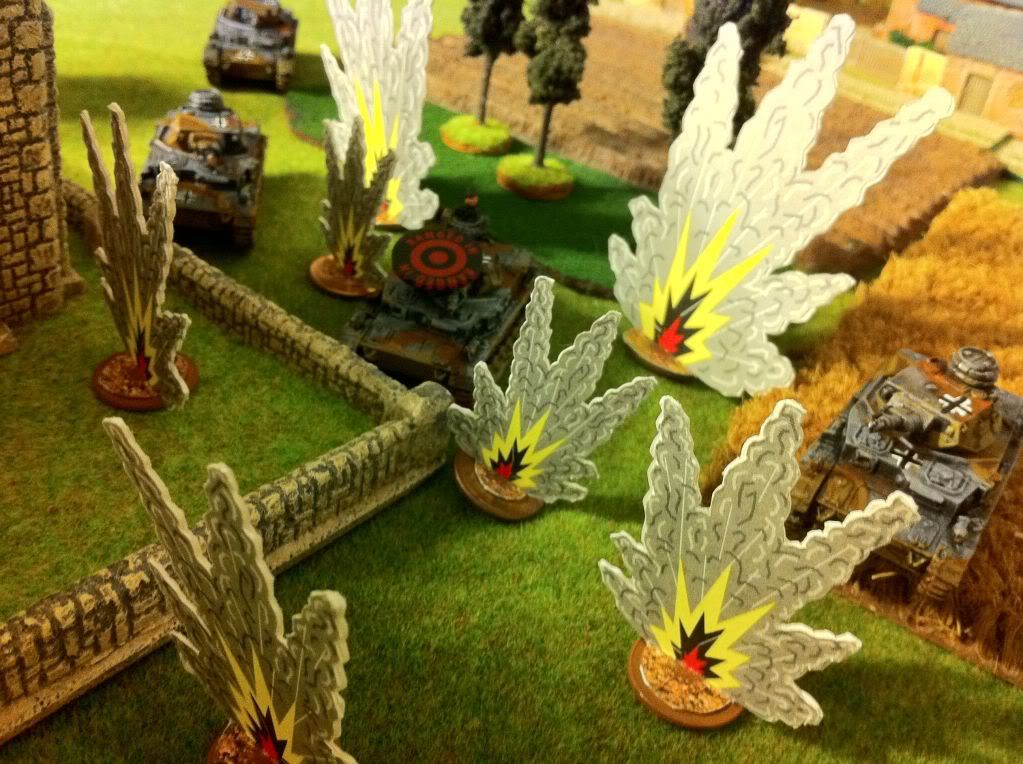 the 105s range in on the Panzer IVs, but the shells cause no damage.
SOMUAs reposition to claim an objective.
Stukas swoop in and knock out a 105, pinning the battery!
A Panzer IV knocks out a SOMUA at long range!
4 Panzer IIs boldly move forward, just on the other side of a small wood. The 5th tank was bailed in the previous turn, and failed to remount!
3 Panzer IIs bog moving into the wood on the German right!
COMBAT CASUALTY SUMMARY


FRENCH
1 Hotchkiss H-39
1 SOMUA S-35
1 105


GERMANS
1 Panzer II

TURN THREE
Panhards move up and support the H-39s. Combined fire knocks out another Panzer II!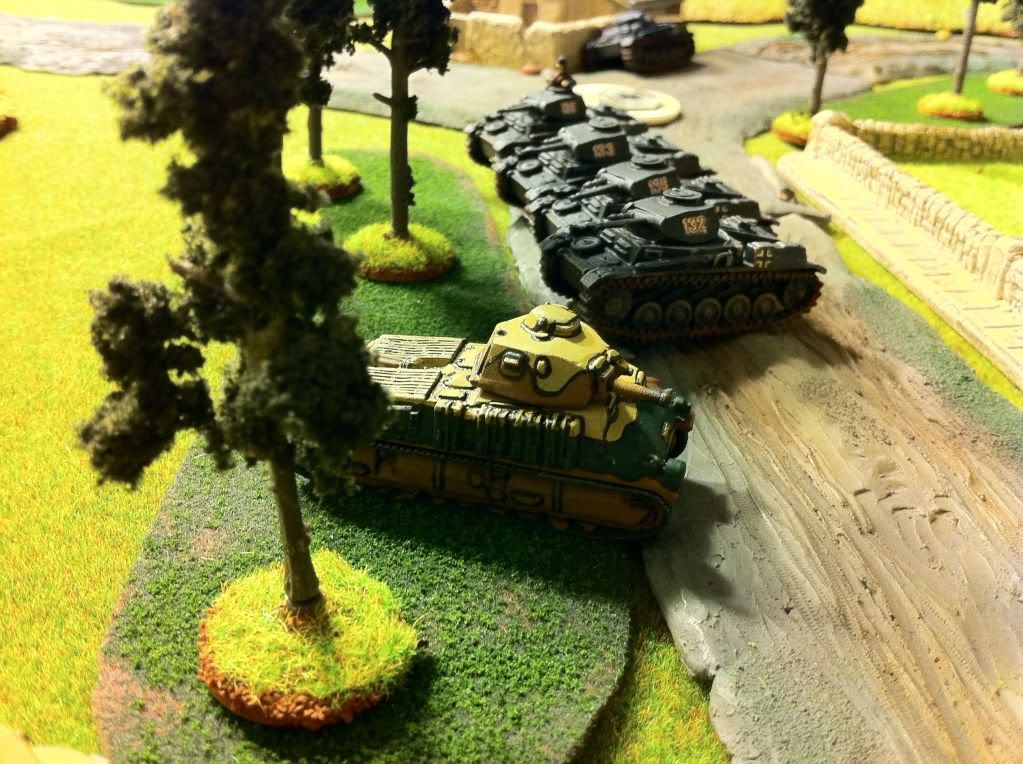 A SOMUA noses through the wood, and is startled to see 4 Panzer IIs idling on the other side!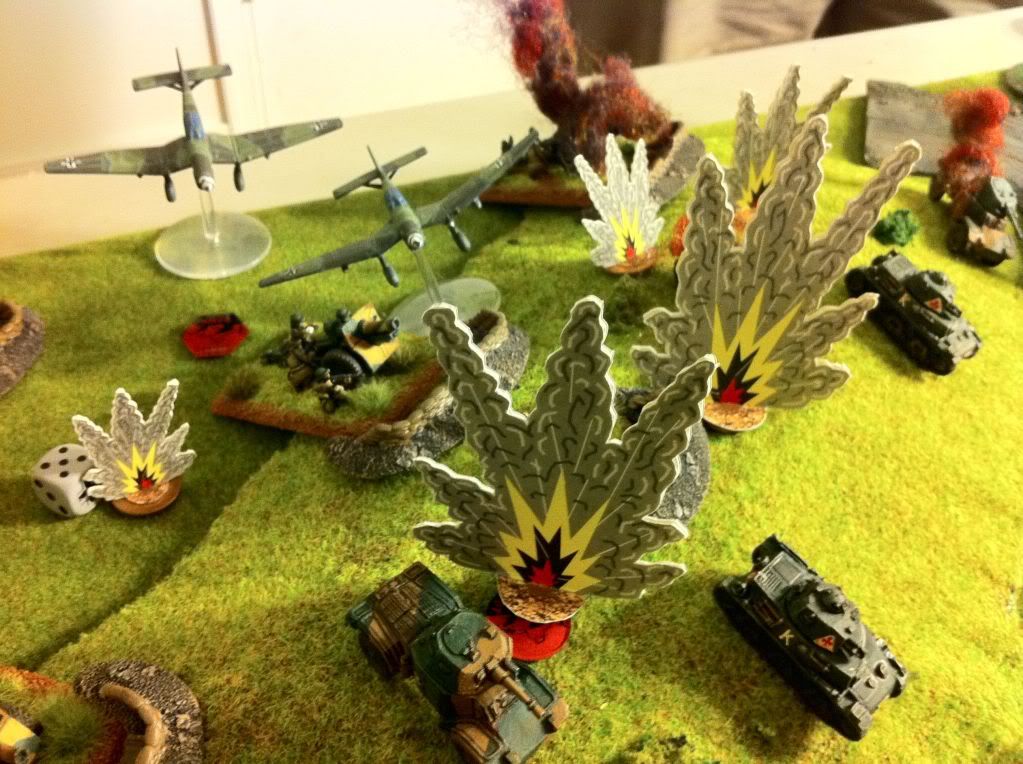 Stukas swoop in and again pin the battery, but cause no additional harm.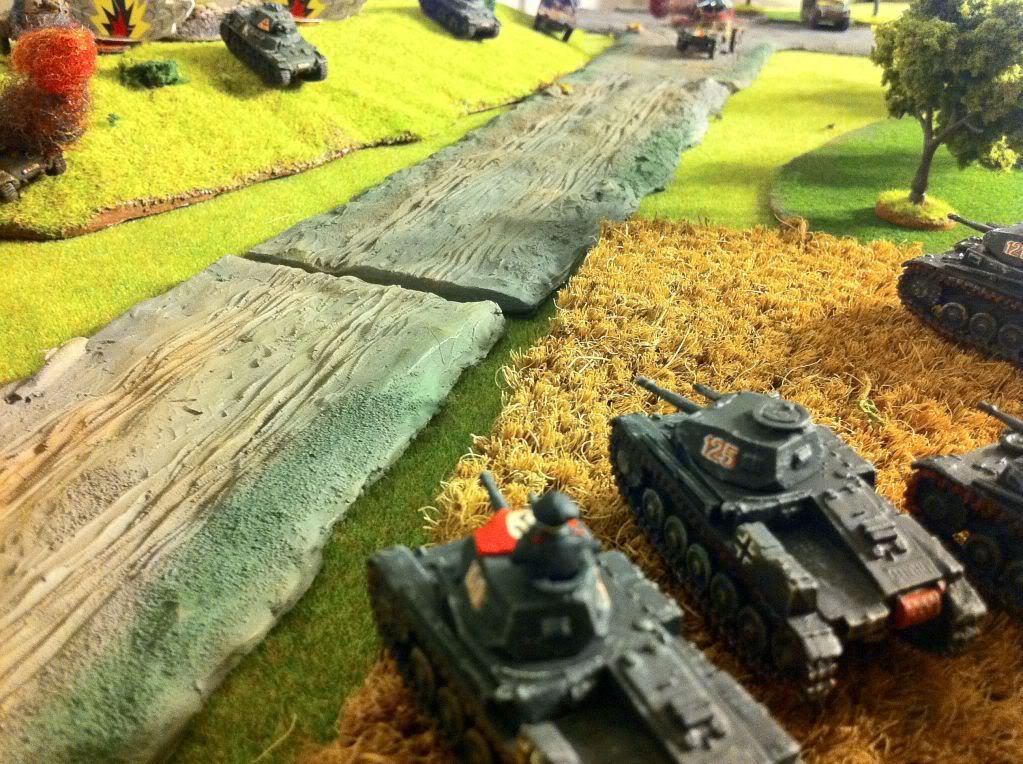 Panzer IIs open up with full ROF on the Panhards. Three go up in flame, but the other sticks around.
The Panzer IIs on the other side of the small wood boldly drive through the French position! They open up and bail 2 SOMUAs!
COMBAT CASUALTY SUMMARY


FRENCH
1 Hotchkiss H-39
1 SOMUA S-35
1 105
3 Panhard AMD-35


GERMANS
2 Panzer II

TURN FOUR
SOMUAs swing their turrets around and blaze away! The Panzer IIs evaporate behind enemy lines.
105s slam into the Panzer IIs but cause no damage.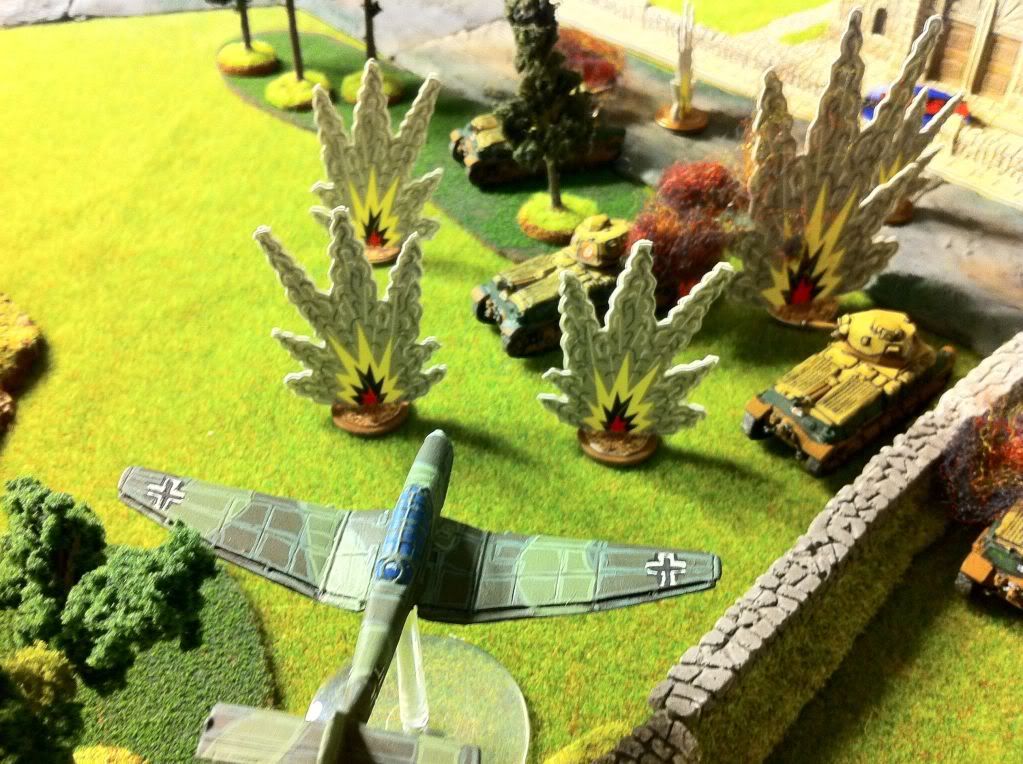 A lone Stuka swoops in and takes down 2 SOMUAs!
The Panzer II swam surges forward, MGs blazing, ready to assault! The Panzer IVs reposition in an effort to silence the H-39s, but have no luck.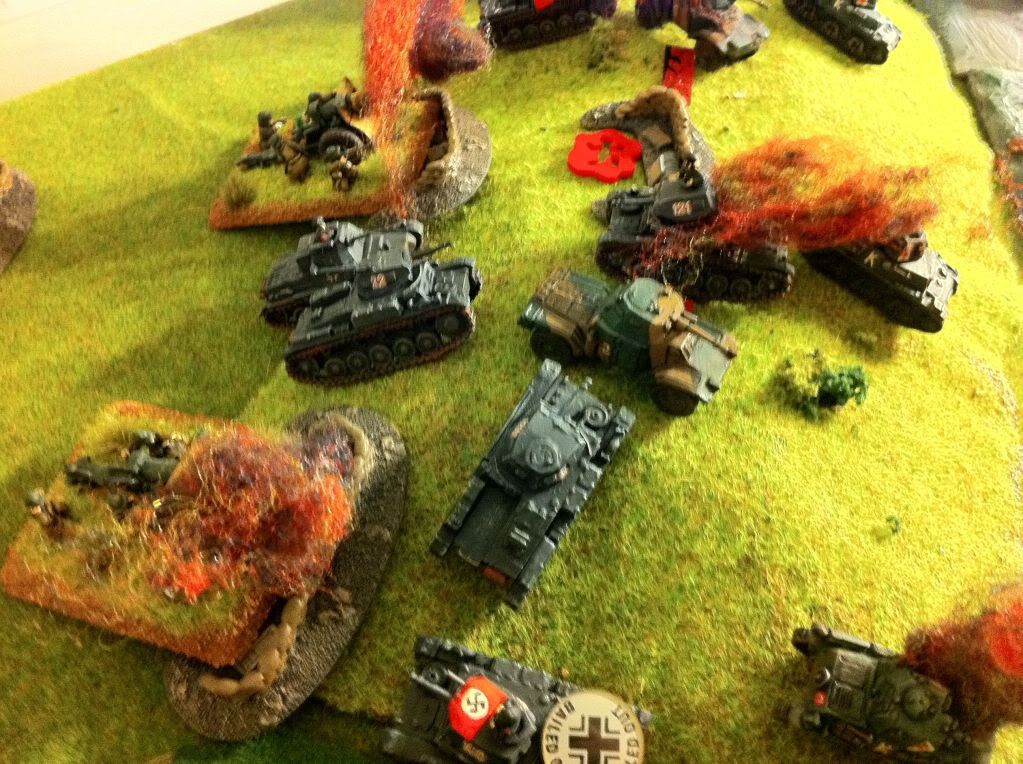 The Panzer IIs charge! 1 Panzer II is knocked out in defensive fire, and another bailed, but the 105 battery is ran! Technically the Panhard was assaulted and could not escape, but we have no idea if tanks could capture tanks- we know hits from tanks can't be allocated to other tanks, but we were unsure how to handle this- so we let the Panhard live!
COMBAT CASUALTY SUMMARY


FRENCH
105 Battery
1 Hotchkiss H-39
3 SOMUA S-35
3 Panhard AMD-35


GERMANS
Panzer II Platoon
3 Panzer II

TURN FIVE
On Tom's left (my right), the SOMUAs surge forward, unafraid of the Panzer IIs lurking in the woods!
The Panhard remounts, and combined fire from the two remaining H-39s and the panhard sees the company commander and the remaining Panzer IIs flee the field! Ouch!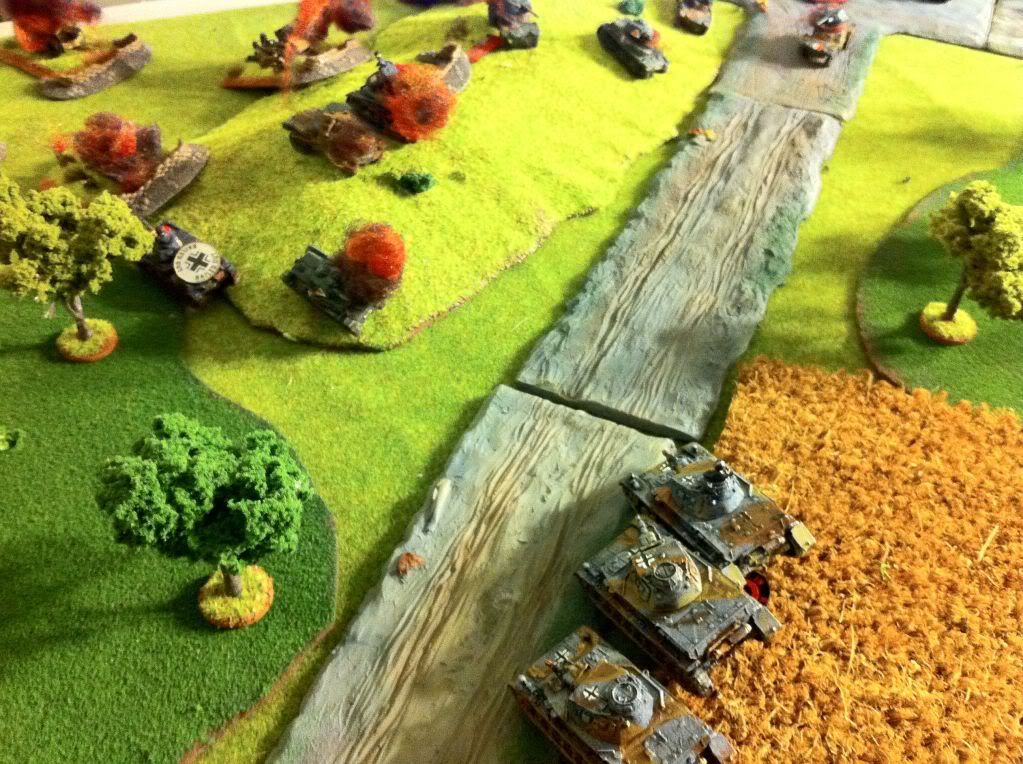 The Panzer IVs open up on the H-39s and the remaining Panhard- wiping out BOTH platoons! Both of our companies are now at half strength- but my company commander is gone!
Panzer IVs reposition after stormtroopering.
COMBAT CASUALTY SUMMARY


FRENCH
105 Battery
Panhard Platoon
Hotchkiss Platoon
3 SOMUA S-35


GERMANS
Panzer II Platoon
Panzer II Platoon
3 Panzer II

TURN SIX
A SOMUA takes long range shots on my Panzer IVs- bailing one!
The German turn sees Stukas hit the same platoon again- knocking out a 3rd tank! The platoon then fails morale! Tom then goes on to fail his company morale check. The game goes to me, but with heavy losses it's a 4-3.
CLOSING
WOW! Air support really came through for me, scoring 3 of my 4 SOMUA kills. SOMUAs really are tough to deal with. I was quite happy with the Panzer IVs, and feel like in plenty of situations the Panzer IIs would've been amazing even though they were fairly outclassed here.
Read More
Popular Posts In the last 30 Days
By Sean "Throckmorton" Sarah I am a painting nerd. If you've followed my blog posts on here over time you'll notice ...

The Panzer scouts have finally hit the table and even played through their first two day Bolt Action event, taking the 'Best Axis Gen...

If you want to hear the Steve and Sean O get real nerdy with Dungeons and Dragons, the team is now streaming games live! Check us out on our...

By Patch, Welcome to another painting guide to add to our collection, this time I will look at the very iconic US Airborne. Before readin...