STURMGESCHUTZ III in Action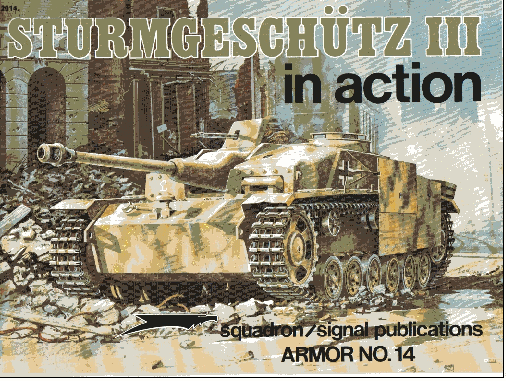 This book published in 1976 by Squadron/Signal Publications written by Bruce Culver with illustrations by Don Greer is still in print and can be found online or at most well stocked hobby shops from $2.99 to $10.99.
This book covers all "STUG" III variants from A to G and including the StuH 42 with the 10.5cm gun and the "Saukopf" mantlet. There are over 100 B/W photos, 10 color plates, and some B/W scale drawings. The first few pages cover development of the vehicle and history. Some crude crewman drawings are included. B/W drawings showing differences in drive and idler wheels are shown throughout.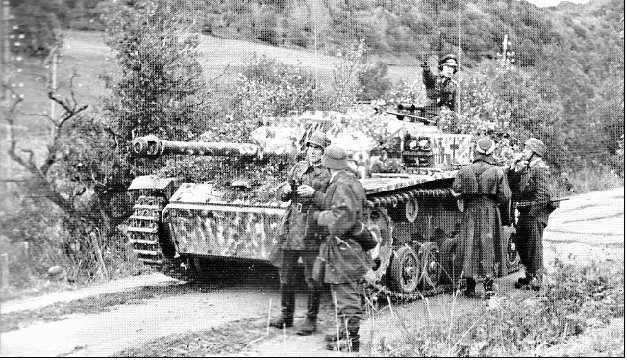 Figure : Great picture of a well photographed STUG III. This vehicle was featured in wartime newsreel. It's an F model in Italy or France supporting either Herman Goering or a Field Division.
The photographs cover everything from training to combat photos. Some photos show maintenance and interior shots of the vehicle. The book covers the periods well showing multiple photos of vehicles in France 1940 thru Russia and finally Western Europe. Again all models are covered well and notes on differences are covered.
The color plates alone make this book worth the $10.99. Four plates cover short 7.5cm gun variants and the remaining 6 cover long 7.5cm variants and one 10.5cm model. The plates give the modeler a great selection of patterns to apply to kits.
Yet another book by Squadron/Signal Publications that is a must for the price. Even though the book is over 30 years old, the price is right, coverage of its history, and the plates and photographs make it a good choice for any historian or modeling buff.