German
paratroopers from Glory to Defeat 1939-1945

This book published in 2001 by Concord Publications Company written by
I.M. Baxter with color plates by Ron Volstad. This book is a 52 page
soft bound standard size book with probably over 120 B/W photos, 4
color plates, and retails for $14.95.
The book starts out with a 3 page introduction covering the history of
the Fallschirmjager from the invasion of Holland and Norway to the
end of the war in 1945. The historical coverage, though brief, is
informative enough to give a novice a good background on German WWII
airborne history.
The
B/W photos show everything from training to probably early 1945.
Some of the photos are misidentified but are good reference for
modeling and wargaming. Many of the photos have been published in
multiple books but 2-3 are new photos.
Figure
: Book states FJ wearing Mountain Anorak and tropical pants.
Unknown of accuracy but there are several documented photos of FJ
wearing these anoraks in Italy. Note also 1 Liter canteen over .8
liter standard issue canteen.
The color plates remind me of the Squadron/Signal series of books. Mr.
Volstad is a great artist and is well known. The plates are great
for using as color reference and to pattern the smocks. The plates
cover early 1940s "Gray Green" 2
nd

pattern smocks, Splinter "B" smocks, and "Water-Tan" smocks.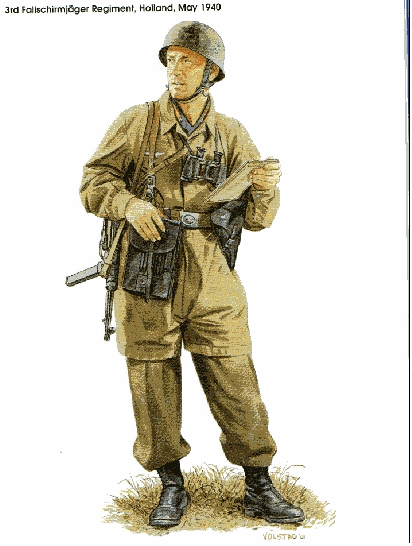 Overall for the price of the book it is a good investment for a brief
overview of Fallschirmjager history and great for someone just
getting into both Fallschirm history and modeling.