On Sunday Eric and I took some Germans against Luke and Brian's Americans at Luke's place.
Building on the excellent format at Fall in, we ran 2 companies per side at 2000 points.
Eric ran 78th Sturm Division with:
HQ + mortars
2 Platoons (1 full, 1 weak)
2 HMGs
2 HMG Bunkers
3 sections of wire
3 Panzerwerfers with extra crew
I ran 2nd SS Panzers with:
HQ (1x Panzer IV H)
3x Panzer IV H
3x Panthers
Luke and Brian expected me to run Panthers and so got clever and took no tanks. They both ran 2nd Armored Division armored rifles.
Luke had:
HQ
2 full strength rifle platoons
Priest Battery
L4 AOP
Brian had:
HQ
2 full strength rifle platoons
full strength engineers
full strength armored mortars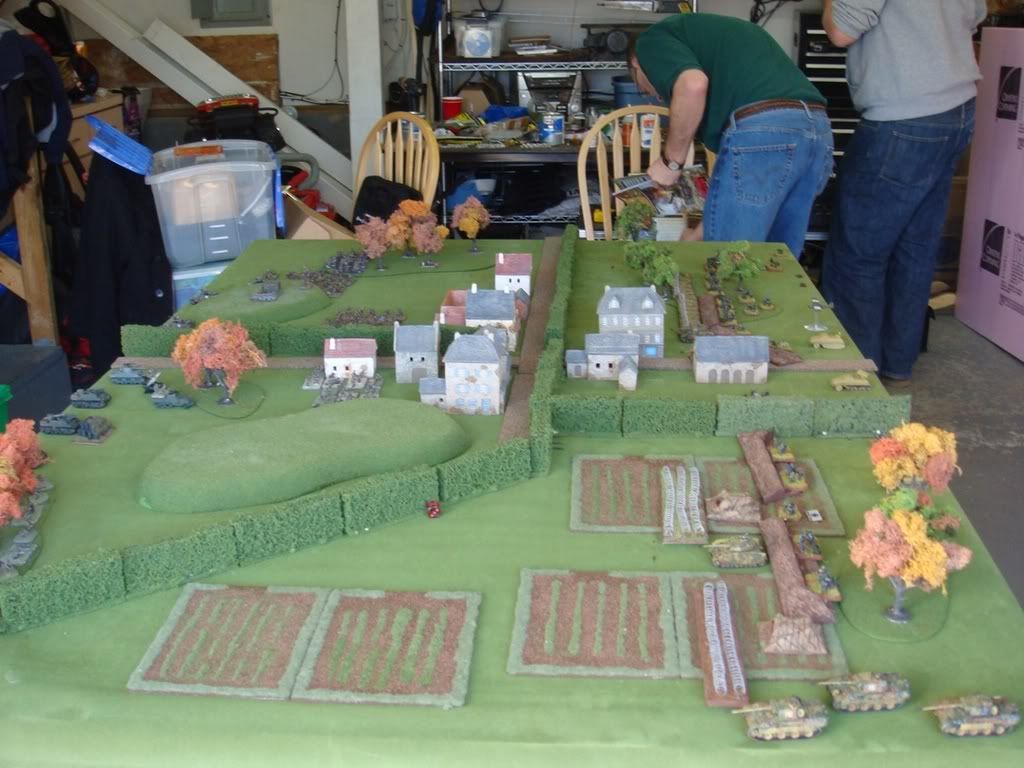 The battle had some severely nail biting moments, and bad luck on both sides (at one point I bogged 2/3 panthers trying to break into the American lines, and another time Luke rolled 5 ones when assaulting said panthers), but in the end the sturmkompanie broke the American attacks on the right flank, while the Panthers fought their way through the bocage and bazookas on the left into the juicy middle of the American forces, seizing the objective. When I am not feeling so lazy I will post more of Luke's pictures. Thanks again for the game everyone!
And now on a more personal note, a word of advice.
IF YOU PLAN TO GET MARRIED DO EVERYONE A FAVOR AND ELOPE.
That is all.